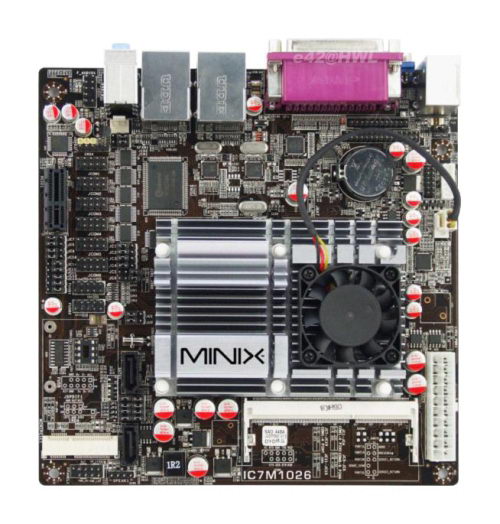 Although Intel has not yet officially announced the release of the first processors based on CedarView architecture, motherboard manufacturers are already starting to demonstrate their decisions in which these chips are applied. The last such product was represented by J&W.
The motherboard, called the Minix ITX C7M1026, is equipped with a massive aluminum radiator complete with a miniature fan, which is used to cool the CEDAR TRIIL platform, consisting of the NM10 chipset and the ATOM D2700 processor.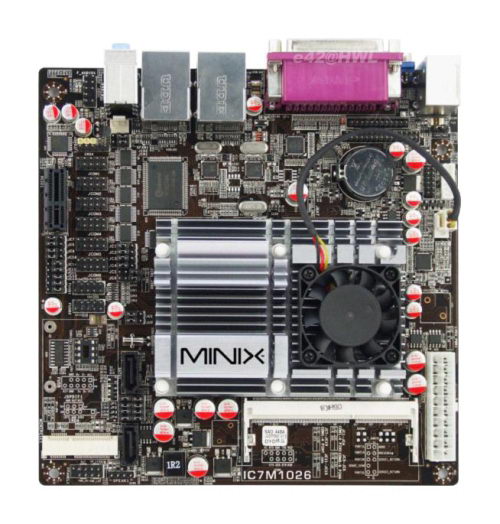 This dual -core chip with a 2.13 GHz operating frequency is the fastest of the CEDARVIEW processor line, which will be released Intel. It is endowed with 1 MB of Kesh-Mamaty L2, an integrated DDR3 and GPU memory controller with Powervr architecture. The graphic accelerator is completely compatible with DirectX 10.1 and provides hardware decoding Full-HD-video in MPEG2, VC1, AVC, H formats.264 along with Blu-Ray 2 support.0.
On the back end side of this compact ITX format, a rather limited number of ports are placed: HDMI and D-Sub video outputs, two gigabit network ports, four USB 2.0, a set of audio outputs, a pair of old-fashioned PS/2 and even LPT port.

On the board itself there are only one PCI Express X1 slot and two SATA 3 Gb/s interfaces. Another Mini PCI-E slot is located almost at the radiator itself on the right. The board is endowed with two nests for installing the DDR3 memory of the SO-Dimm mobile format.
Regarding the cost j&W has not yet provided data, but if you take into account the equipment of the board with a set of entry -level capabilities, it can be expected that this will be one of the cheapest offers with the ATOM D2700 processor.
The release of the first Intel CedarView chips is scheduled for the fourth quarter of this year.
Source: