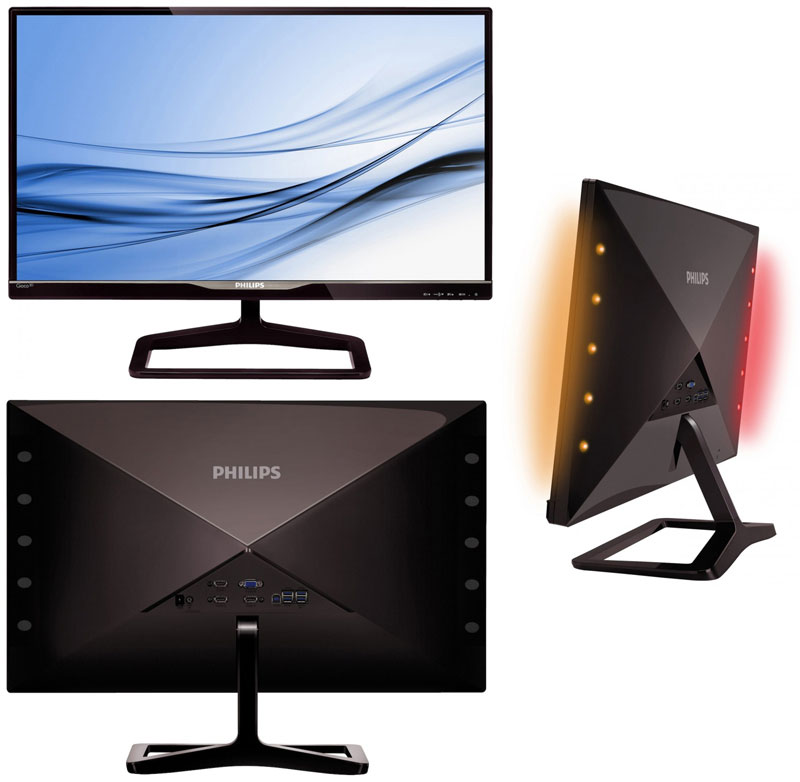 For the most demanding lovers of virtual battles, MMD Monitors & Displays, exclusively owning the right to sell the LCD monitors under the Philips brand, released a 27-inch 3D-display GioCo 278G4DHSD with a passive stereoscopic technology based on the AH -ips panel with white LED backlight. By the way, the first public demonstration of this model took place as part of the August International IFA 2012 exhibition in Berlin.
A curious feature of the novelty is that the proprietary system of multi -colored Ambiglow multi -colored backlighting is built into it, which, if the monitor is located at a distance of 15 cm from the wall or flat surface, visually increases the image of the image and reduces eye fatigue when viewing in the dark room. If you need to use the display for normal operation, the Ambiglow mode can be disabled.
The device is enclosed in a glossy body of the color of dark bronze or dark cherry and is equipped with an ergonomic stand with a stand. It is characterized by Full HD-perching 1920 x 1080 pixels, brighter than 250 kD/m2, dynamic contrast 20,000,000: 1, response time 7 ms (in 2D mode) and a 178-degree viewing angle in both planes. The communication capabilities are represented by three HDMI ports, the D-Sub interface, as well as an integrated USB-concentrator with four USB 3 connectors.0.
It is expected that in Russia it will be possible to buy this product in early 2013 at a price of 16,000 rubles.
Source: