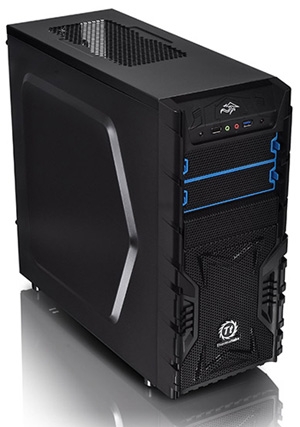 In the assortment of Thermaltake Technology manufactured by the Related Gamers produced by Thermaltake Technology, the Versa H23 model appeared, which is offered in black with blue accents on the front panel and is available in versions with a transparent side window or without it.
A novelty with dimensions of 429 x 209 x 491 mm with a weight of 4.2 kg is made in the MID Tower form factor from the SPCC steel sheets. It is compatible with motherboards of Micro-Atx and ATX standards, graphic adapters up to 315 mm long and processor coolers up to 156 mm high. A pair of 5.25-inch external compartments is provided for placing optical drives. The interior contains internal seats for installing three 3.5-inch hard drives or up to six 2.5-inch drives. There was a place for seven expansion slots on the back wall.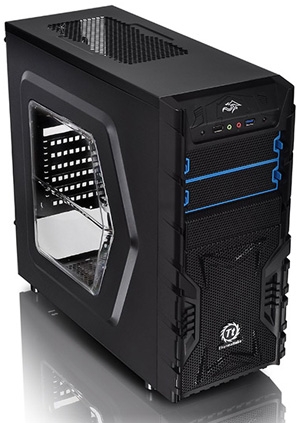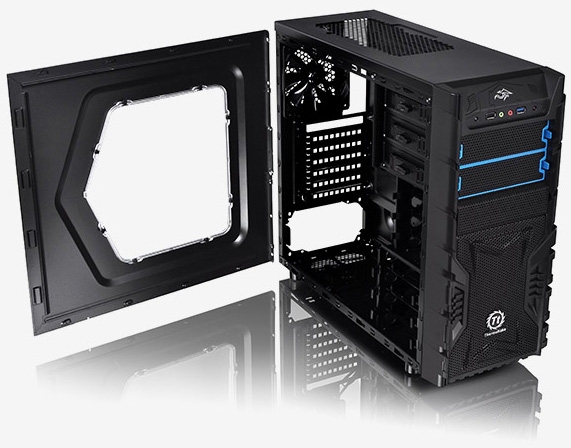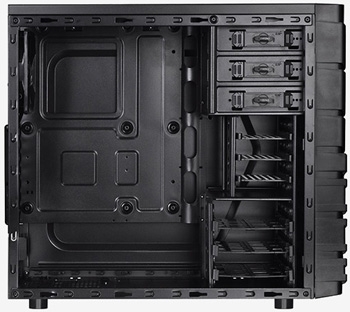 Thermaltake Versa H23 Window
The delivery kit initially includes one 120-mm rear TURBO FAN fan with a rotation speed of 1000 revolutions per minute and noise level of not higher than 16 dB. Optionally, you can add two more similar ones in the sizes of frontal «Propeller». In addition, the use of liquid cooling system based on a 120 mm radiator with hoses with a diameter of 1/2, 3/8 or 1/4 inches is allowed.
As for the set of interfaces displayed on the facade, there are USB 3 connectors here.0 and USB 2.0, with which the nests are adjacent to connect the headphones and the microphone.
The price of the Versa H23 case (CA-1B1-00M1NN-01 code) and Versa H23 Window (CA-1B1-00M1WN-01 code), as well as the terms for their admission, are currently required to clarify.
Source: