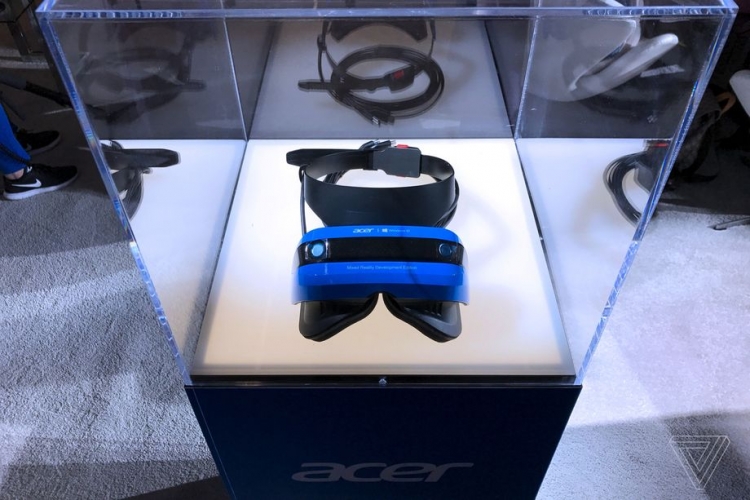 Microsoft reported that the supply of the first Acer helmet with mixed reality support will begin this month. We are talking about a standard device for developers interested in the Windows Holographic platform. This means that Microsoft enhances attention to the field of supplemented and virtual reality. For the first time about partnership with manufacturers of devices in the field of products for Windows Holographic, the company announced in October.
Mixed Reality (Mixed Reality) — This is the name of augmented reality from Microsoft: the technology allows you to put virtual objects in a real environment and manipulate them. It relies on the cells and sensors of the helmet of virtual reality, monitoring changes in the surrounding space, as well as the position of the user's head and body. Intel is working on something similar as part of the Project Allloy helmet project, but calls his technology by the United Reality (Merged Reality).
By analogy with the Lenovo helmet shown in January, the Windows Holographic Platform, the Acer model discussed two front chambers, as well as a set of sensors that provide six degrees of freedom and do not need external sensors or chambers for monitoring the movement of the user in space, tracking movementsand compiling depth maps. The user can still be needed to take control controllers to capture the position of the hand — Such a periphery will be produced after Microsoft completes the development of specifications of the Windows Holographic controller.
Acer helmet is equipped with two OLED displays with a resolution of 1440 × 1440 points, — This is above the indicators of modern mass VR modes like Oculus Rift or HTC Vive. But you need to wait for real tests of these devices «mixed reality», to understand how high -quality picture and immersion they can provide.
Microsoft states that it plans to start the release of content for the Windows Holographic platform in 2018. We are talking about the upcoming powerful Project Scorpio console. This means that soon we can see cross -platform games and applications in the virtual and augmented reality for Windows, Hololens and Xbox One.
Source: