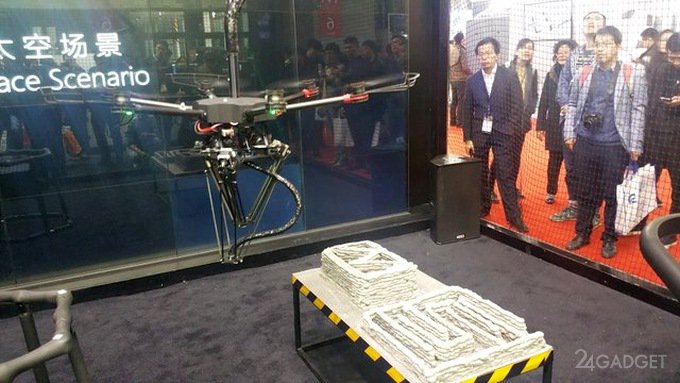 At the Shanghai TCT ASIA exhibition, DEDIBOT from China demonstrated a shocking novelty-a prototype of Fly ElePhant 3D printer 3D printer. Outwardly the device looks like a standard unmanned flying device equipped with 6 rotor engines. However, in the center of the lower part of the unusual drone, an extruder is installed that supplies material for 3D printing. The supply of plastic, concrete and other 3D printing components is provided. The accuracy of the printer is 0.1 mm.
Fly ElePhant developers hope that the symbiosis of the flying object and printer will find the use of complex structures in the construction. The software will create a whole team of flying "builders", which can build a fairly massive object using a variety of materials. Fly Elephant will be especially useful when creating small elements of the building, which cannot be built by an industrial printer designed to create powerful bases and walls of the building. In addition, Fly Elephant can work in hard -to -reach places.
In the future, manufacturers see the use of Fly ElePhant in space and under water. However, to withdraw the printing drone into another element, an invention of a power source that increases the time of autonomous work will be required.