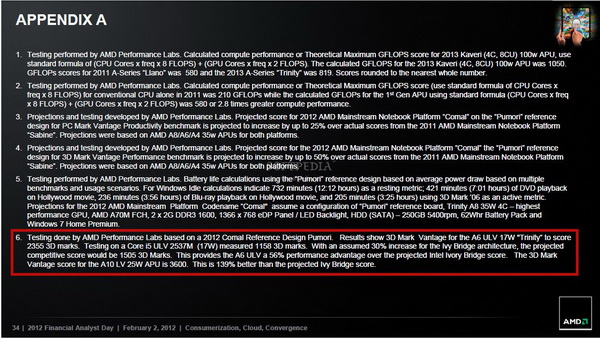 In the middle of this year, the emergence of energy -efficient AMD Trinity mobile processors is expected, which should be released to confront Intel ULV chips and can, according to AMD, halve modern processors for ultrabooks in graphic performance.
During the Financial Analyst Day event, the senior vice president and the Global Business Units unit in AMD Lisa Su (Lisa Su) at the end of her presentation presented a number of very interesting estimates of the upcoming hybrid processors of Trinity.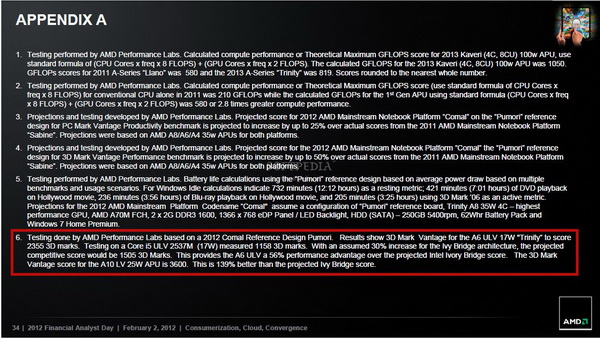 For example, it is reported that the 17-place Trinity processor A6 series in 3DMark Vantage scores 2355 points. According to AMD, this result is twice the indicators of the Sandy Bridge Core i5 2537M (1158 points) with the same level of energy consumption. This Intel chip is the most used in modern ultrabooks. Moreover, if we take into account the predicted 30 percent increase in graphic performance in Ivy Bridge compared to Sandy Bridge, then the 17-in accelerated A6 processor will be 1.5 times faster than the new Intel chips in 3DMARK VANTAGE.
AMD has also provided performance data on the 25-to energy-efficient Trinity processor, which will belong to the A10 series. According to the company, this chip receives 3600 points in 3DMark Vantage, that is, it will be about 2.5 times faster than the projected 17-in chip IVY Bridge.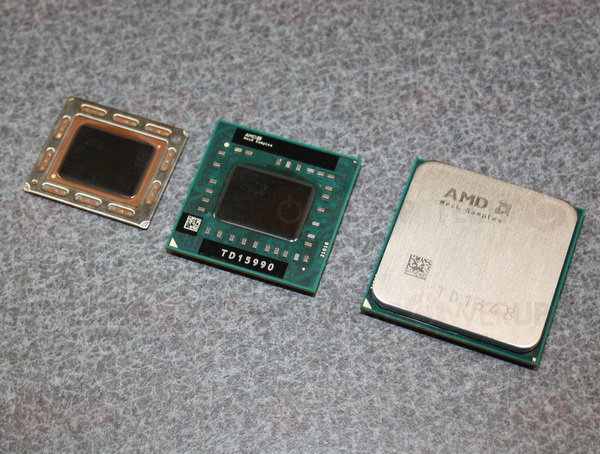 It is reported that the 17-in and 25th Trinity chips will be equipped with 4 nuclei (2 modules) with the architecture of PILEDRIVER. These chips will not have a l3 cache memory, will receive support for the instructions of AVX and AES-Ni, a 2-channel memory controller DDR3 2133 MHz, more advanced to LLANO graphics and will be designed for use in ultrabooks with a thickness of about 18 mm. The release of Trinity desktop and mobile chips is expected in the middle of the year.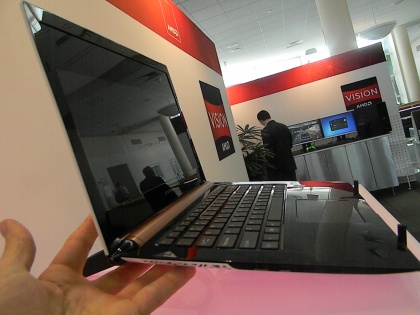 Sources:
VR-Zone.com, eetimes.com, News.SoftPedia.com