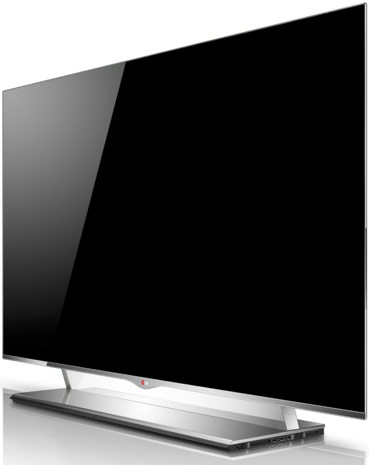 This week, at an event in Monaco, dedicated to the next stage of the race, Formula 1, the sponsor of which is LG, was demonstrated by the OLED-TV LG 55EM9600 with a screen of screen 55". This TV was first shown to the public by the South Korean company in early January at the Consumer Electronics Show (CES) 2012 exhibition.
Information about the novelty is extremely stingy, including its retail value. Sources in LG confirmed the previous assumptions that the price is 55" OLED-TV LG will be very high, within €8 000.
The press release states that the thickness of the TV is about 4 mm, and the weight does not exceed 10 kg (earlier it was reported 7.5 kg). The production of the company's OLED panels is based on WRGB technology, which, as LG claims, is less costly than the manufacture of OLED panels based on RGB technology. In addition, WRGB technology for OLED panels from LG allows you to produce TVs with larger screens. The press release also reports on the use of LG 4 Color Pixel technology, which improves color rendering, and Color Refiner, which improves image quality. The new 55 "OLED-televisor provides a three-dimensional image for Cinema 3D technology in combination with Smart TV functions.
According to the Engadget resource, the LG 55em9600 TV will go on sale in July. It should be added that at the beginning of the year the company promised after 55" OLED TELEVIZER start the release of models with 40" OLED screen.
Source: