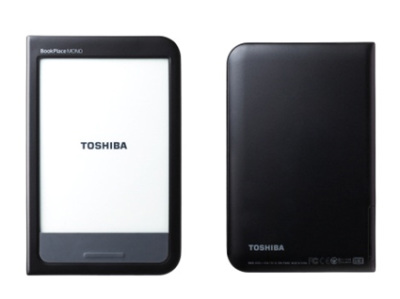 TOSHIBA has announced the upcoming admission to Japan in Japan to read the Bookplace Mono electronic books, equipped 6" A sensory monochrome display based on E Ink technology, which has a resolution of 1024×758 pixels.
Bookplace Mono uses 800-MHz SOC processor Freescale I.MX508 at the architecture of ARM Cortex-A8, designed for e-sir. The device specifications also include 512 MB of RAM, 4 GB of flash memory, Microsd memory cards, Wi-Fi 802 wireless networks adapter.11b/g/n, USB port, headphone audio dealer and speaker.
The battery capacity of the device is enough to view 8,000 pages. E-reader supports text formats EPUB and XMDF. The function of sound reproduction of the text based on the proprietary Speech Synthesis technology is also reported. The weight of the device is 180 g. Owners of BookPlace Mono will be able to download e-books in the Toshiba BookPlace online store aimed at the inhabitants of Japan.
Bookplace Mono sales will start in Japan on April 16. The price of the new item will be 9800 yen ($ 100). Included with a set of electronic books, the device can be purchased for 13,500 yen (about $ 140).
Source: