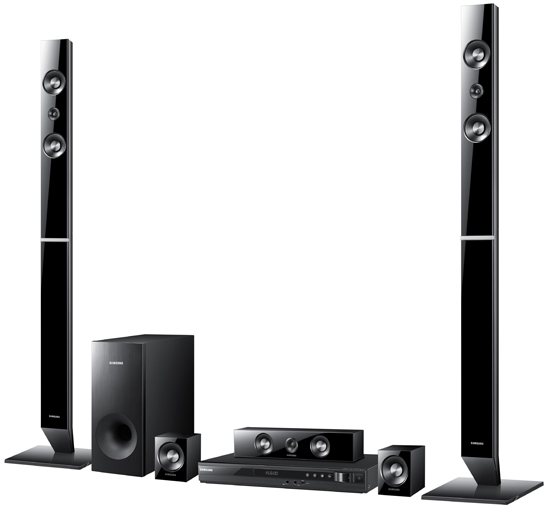 Samsung Electronics, an official press release, notified the public about the withdrawal of two new home cinemas with the function of karaoke to the Russian market, of which the HT-D353K model is equipped with frontal floor speakers, and the HT-D350K modification – sheams.
Both products are made in strict classic style and harmoniously combined with Samsung TVs 2011. Each 5.A 330 W 1-channel system uses Dolby Digital, Dolby Pro Logic II and Power Bass to achieve pure voluminous sound with deep basses.
In their creations, the developers implemented the possibility of playing DVDs of various formats, including DVD Video/Audio, DVD +/- R and DVD +/- RW. To connect to the TV, an HDMI interface can be used, and if the screen diagonal is large, then you can resort to the function of scaling video until the Full HD 1080p resolution. In the case of the use of products along with the Samsung TV, the BD Wise function becomes available, which automatically selects the optimal settings of devices for each reproduced video file. More HT-D350K and HT-D353K are ready to operate with multimedia files in Divx, MP3 and JPEG formats recorded on external drives with USB 2 interface (USB 2 function.0 movie).
Home cinemas are equipped with two inputs for microphones, which allows you to organize karaoke wares with friends. Including the mode «echo», You can achieve the same sound sound as in the concert hall, and the function of automatic awarding of points will help to make an impartial assessment and choose the best artist. In addition, the user can record his version of his favorite song to an external drive connected by USB bus.
Of the other characteristics of new products, features such as the possibility of converting music from CD format to mp3, improvement of the sound of mp3 files by the mp3 Enhancer function, built-in FM tuner, as well as support for Anynet function+. The latter allows you to use one remote control for all compatible audio and video devices Samsung, connected via HDMI interface.
You can buy HT-D350K and HT-D353K now at the recommended retail price of 5990 rubles and 7990 rubles, respectively.
Source: