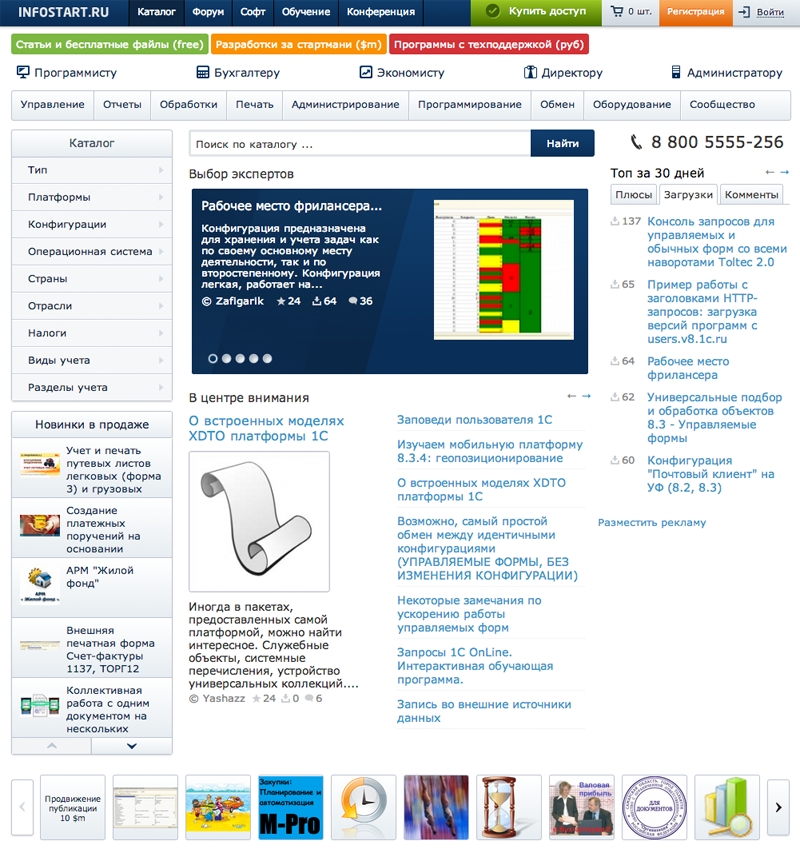 Surely everyone who reads these lines at least once heard the phrase «1c accounting» – 1C company's products for automation of accounting in the CIS are used by hundreds of thousands of enterprises. No wonder today from accountants when hiring almost everywhere require knowledge of automated systems like «1C: Enterprise». And how many programmers are busy in this area! It is about them that will be discussed in this material.
1C products provide ample opportunities for creativity – programmers can independently develop various additions, other modules and programs, which can then be used to facilitate the daily work of accountants and other employees of enterprises. Many talented developers came up with the idea of selling their programs and earn on this. But how to do this with minimal time and maximum return? In due time, the site creator asked the same questions «Infostart» Dorzhi Tsydenov. In 2006, he launched Infostart.ru – at that time it was a program catalog. Over 8 years of work, the project has turned into a real community for professionals employed in the field of accounting and management automation.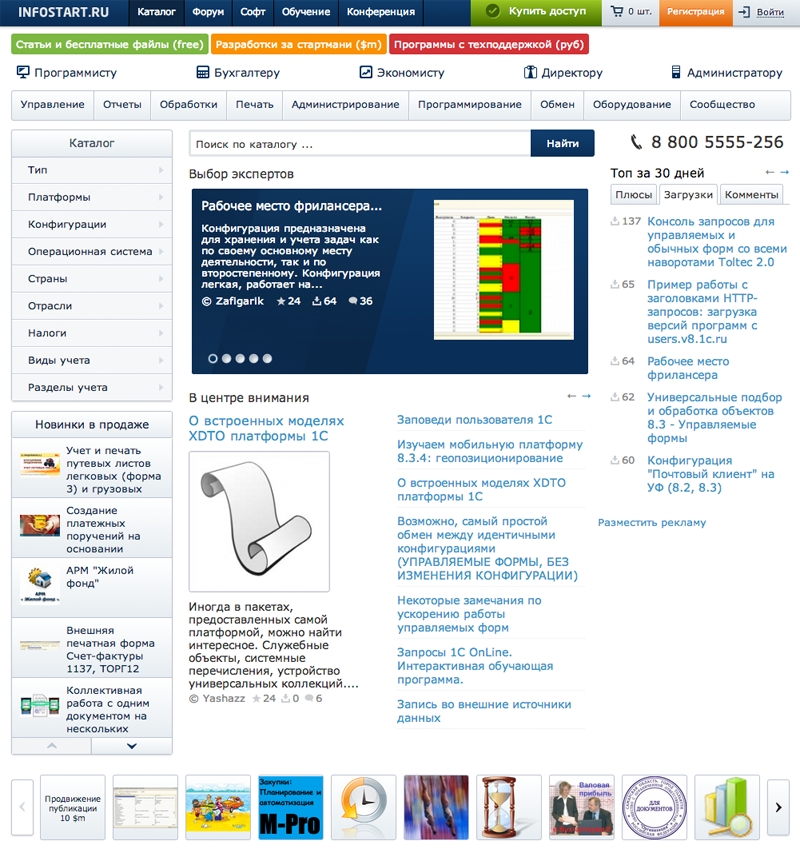 So, what is the target audience of the portal? These are experts who provide professional automation services, freelancers or employees of consulting firms, full -time employees of companies who introduce the accounting system at their enterprise, as well as people who use accounting programs to solve their business tasks daily. Thus, Infostart.RU unites specialists of various profiles: accountants, economists, financiers, programmers, consultants, project managers and managers, all those who are directly involved in the registration and implementation of automation at the enterprise.
25,000 publications in the catalog for automation of accounting and management at the enterprise
One of the main sections of the site is the catalog. It contains more than 25 thousand publications that are devoted to automation of accounting. These are thousands of free reports, processing and programs for 1C enterprise. So every visitor will surely find in this section something useful and interesting for himself. On the site you can find both ready -made modules and tools for the construction of the account system that you use at the enterprise and «semi -finished products», on the basis of which you can create a solution suitable for your enterprise. For the convenience of both visitors and developers, the site operates on the site «Likes», on the basis of which a social rating of developers was built. In addition, the catalog is very conveniently structured and really resembles Apple's application store.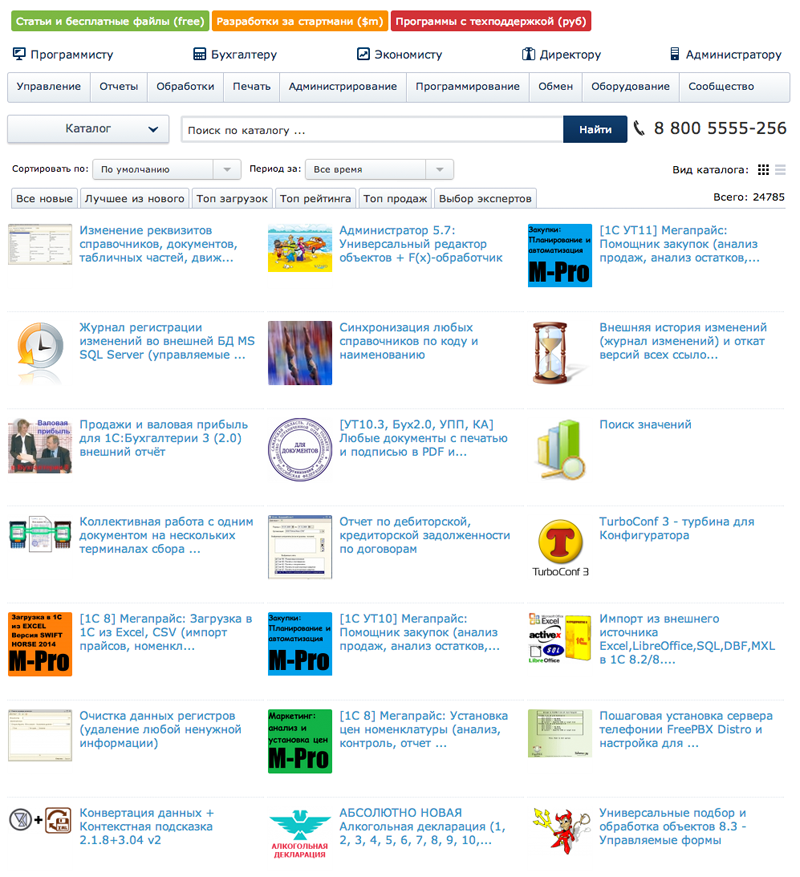 The catalog has its own internal currency — StartMoney (Startmany). It is used to download files from publications. 1 file = 1 $ m. To earn startmans, you need to create a publication dedicated to your program, which you will download to the site. When downloading a file from your publication, you will be charged 1 $ m, which, in turn, will immediately download the file from another publication, thereby transmitting 1 $ M to another author. In addition, you can publish your article on accounting or management accounting, management, accounting automation. Depending on its volume, the author will be accrued a certain amount of virtual money.
In addition, the site constantly publishes fresh industry news, materials about development trends, practical examples of implementation. So the leaders of companies who care about the professional growth of their employees should include the portal «Infostart» on the list of permitted sites for visiting in your company. It is impossible not to note the fact that the website of the author's software for the platform 1C enterprise is deployed on the site platform of the site. The number of partners indicates the success of the site – more than 10,000.
«Infostart» — Training site and place of communication of professionals
However, perhaps the main advantage of the Infostart portal.ru are its visitors. Every day the site is visited by more than 45 thousand people – most of whom are real professionals in their field. Is it a joke, on the site more than 390,000 registered users, which is made by the infostart community.Ru the most numerous professional community in Runet and the most visited independent resource for automation of accounting. Naturally, a forum is deployed on the site where anyone can create a topic and ask for help from their colleagues to solve their problem or problem.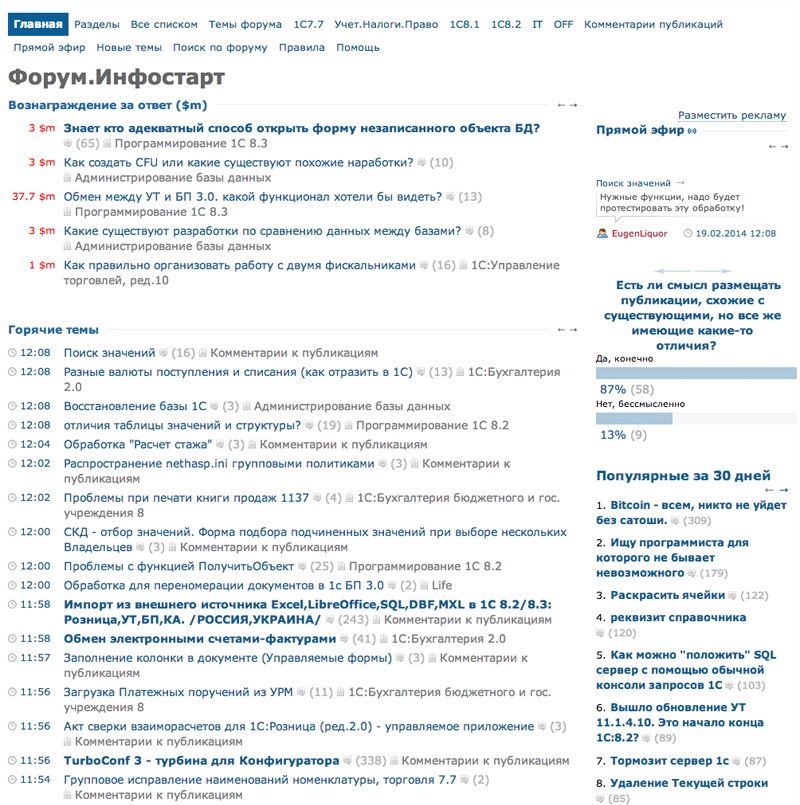 If you are only at the beginning of your creative path and only recently chose programming for 1C as the main profession, then in this case there is a lot of interesting things on the infostart portal for you. Infostart.ru — This is 1C programming training with examples. A large number of both theoretical and practical materials are published on the site. At the moment, the portal can really be called one of the best sites 1C 7.7, 1C 8.0, 1C 8.1, 1C 8.2.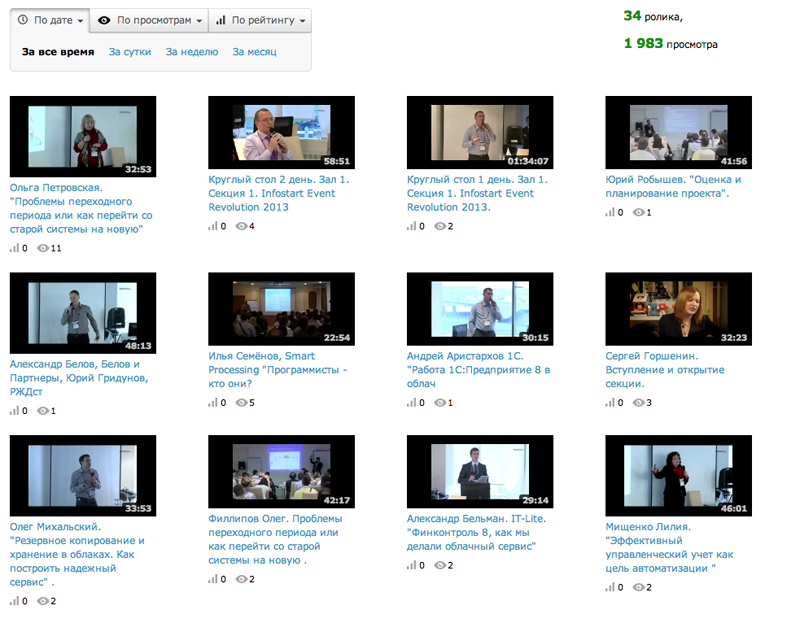 Today a person can work as a consultant or programmer, tomorrow — the head of the department or the manager of the project, and the day after tomorrow will become the director or owner of his own business, but his personal experience, knowledge always remains with him. It does not matter which organization a person is currently working in. Infostart community.ru is designed to become the independent online center where a person will be able to lead his personal professional portrait that will grow and develop with him.
Summarizing, it can be noted that infostart.ru for programmers, financiers, IT-leader and accountants (that is, all those who use 1C) — The same as «Consultant Plus» for lawyers, peculiar «desk book» For all specialists working with accounting programs. Make the site in bookmarks and many working issues will be resolved by themselves!
Source: