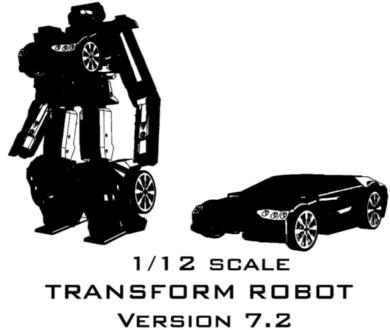 The Japanese company Brave Robotics has introduced an updated version of its signature toy transformer robot, more perfect than the option of June 2012. «Summer» The version was transformed from a 1:12 wheel car to a humanoid car in 14 seconds, now the robot has become faster, effective and functional.
The author of the project is the Japanese engineer Kenji Ishida, he has improved the structure, and now the time for transformation has been reduced to only five seconds. Which is much more interesting, in the new version in «humanoid» The robot shoots with light plastic darts, it does not aim to damage some external objects, the car is enough and a simple direct hit. In addition, the toy has received a built-in camera that translates the image on the iPad by Wi-Fi, the corresponding application comes in the kit.
The only, perhaps, the disadvantage of the updated robot is its absurdly high cost, even for such an interesting and original toy, the manufacturer estimated the robot at 1.98 million Japanese yen, this is about $ 24 thousand. Not everyone can afford such a gift.
Source: