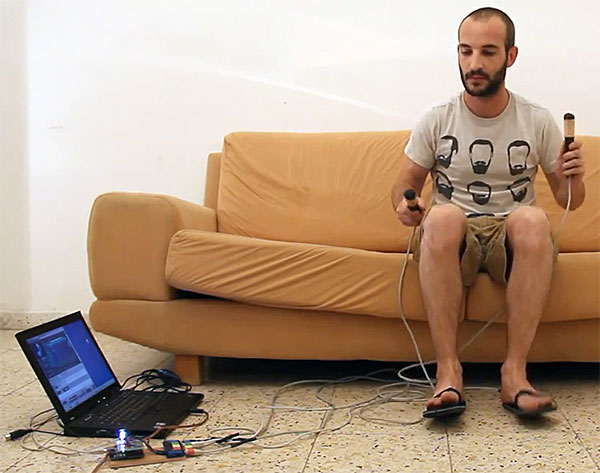 When a person has music in his head, and you can't get rid of it, a person himself begins to reproduce it, for example, to play invisible drums. There is nothing pathological in this, it is just love for the beautiful, even if the Rage Against the Machine group is beautiful, which sounds in the video. Amateur engineer Maayan Migdal showed how to extract real sounds from an invisible shock unit.
In order to make you sound «Air» Drums, the author of the development used a small MIDI synthusator and the Arduino platform. He made eardrums from garden rakes, installed accelerometers and USB ports in them. The left wand is responsible for huts, and in the right there are two separate modules for a working drum and a suspended plate. In addition to sticks, Maine took care of the pedals. Pedal functions perform slippers. Accelerometer is built into the left, it is used by blows on «barrels», And the right author built an optical sensor, which «Opens» or «Closes» Hat. The signal output is carried out through the same USB ports, they are built into the backs of the slippers.

Materials on the topic:
Do yourself: Geiger counter based on Arduino;
ZiggyBox: a synthesizer that play with cigarettes;
Documentary Film on the Arduino platform.
Source: