Mechanical engineer Ryan Lademann developed a racing drone XLR V3 weighing about semi-kilogram, which was the world's first champion among his brothers entered in the Guinness Book of Records.
To achieve such a result, Lademann had to change the traditional shape of the case with a horizontal flat base. Instead, he placed the inner filling vertically in the case resembling a bullet. The engines were also placed in a bullet gondolas, rigidly connected to the chassis on thin racks.
XLR V3 takes off vertically, and then goes into a horizontal flight, during which, due to improved aerodynamics, it can develop incredible speed.
Technical equipment of the drone is represented by the Tattu R-Line 6s Lipo battery, SPEDIX ESC speed controller, Cobra 2207 engines 2450 kV, HGLRC Zeus flight controller, GPS Beitian BN-180 GPS and CADDX ANT FPV camera. Interestingly, all of the above "Avionics" is on the free sale and will cost together with a set of FPV points only $ 400.
The track where the world record was recorded consisted of two opposite tracks. They had to be overcome one after another for the information to nullify the effect of a fair wind at a fixed height, which in turn excluded the "help" of gravity.
When setting a record, the maximum speed was not taken into account, but only the average-on 100-meter segments and on two segments "back and back".
As a result, Xlr V3 managed to accelerate faster than 360 km/h. A little earlier, another record was recorded by maximum speed – 414 km/h.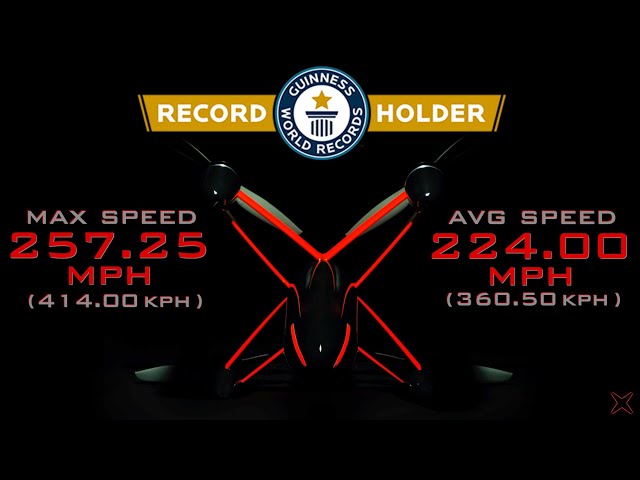 Source &#8212 Guinness World Records