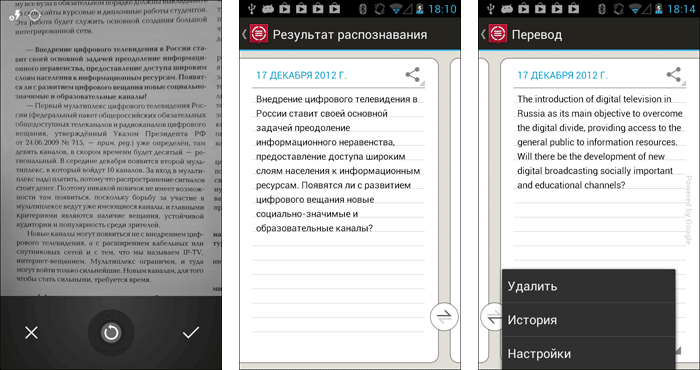 The program automatically extracts information from various sources (for example, from books, magazines, advertisements, schedules, photographed by a smartphone camera) and recognizes the text in the images stored in the memory of the gadget. The key feature of the product is the ability to translate recognized fragments of printed texts through the Google Translate service. Processed data can be sent to friends and colleagues by e -mail and SMS, as well as published on a personal page on Facebook✴ and twitter or save in Evernote.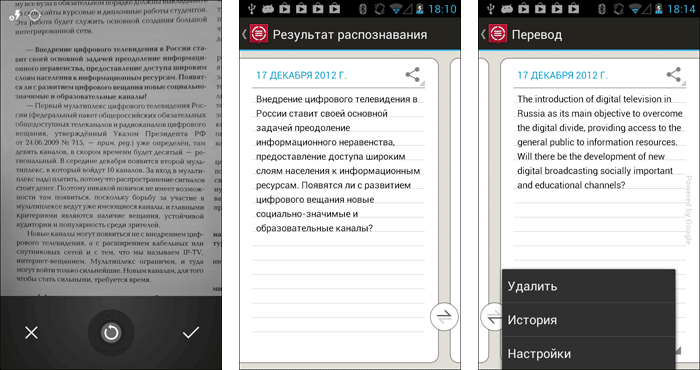 TextGrabber + Translator also allows for a welcome translation if the ABBYY LINGVO electronic dictionary is installed in the Android device. For the convenience of working with the product, the possibility of turning on and off the flash and the capacity of the image of the image on the screenwriter screen is provided.
ABBYY TEXTGRABBER + Translator tools are distributed through the Google Play (Android Market) app store. The cost of the product is three US dollars. Detailed information about the recognition languages supported by the program can be obtained on the website of the developer company.
Source: