ASUS introduced the Radeon R9 390 and Radeon R9 390x Strix accelerators, having a number of differences from reference products.
Recall the basic characteristics of video cards. The basis of the Radeon R9 390x is the Grenada XT chip (improved Hawaii XT) with 2816 stream processors, 176 texture modules (TMU) and 64 rasterization blocks (ROP). GDDR5 memory with a 512-bit tire is 8 GB. The frequency of the nucleus is 1050 MHz, memory frequency — 6000 MHz.
«Heart» Radeon R9 390 — Grenada Pro chip with 2560 stream processors, 160 texture modules and 64 rasterization blocks. GDDR5 memory — 8 GB (512-bit tire). The nucleus frequency is 1000 MHz, memory frequency — 6000 MHz.
ASUS novelties received slight factory acceleration. So, the version of the Radeon R9 390x Strix version of the chip frequency is increased to 1070 MHz, and the Radeon R9 390 Strix model — up to 1050 MHz.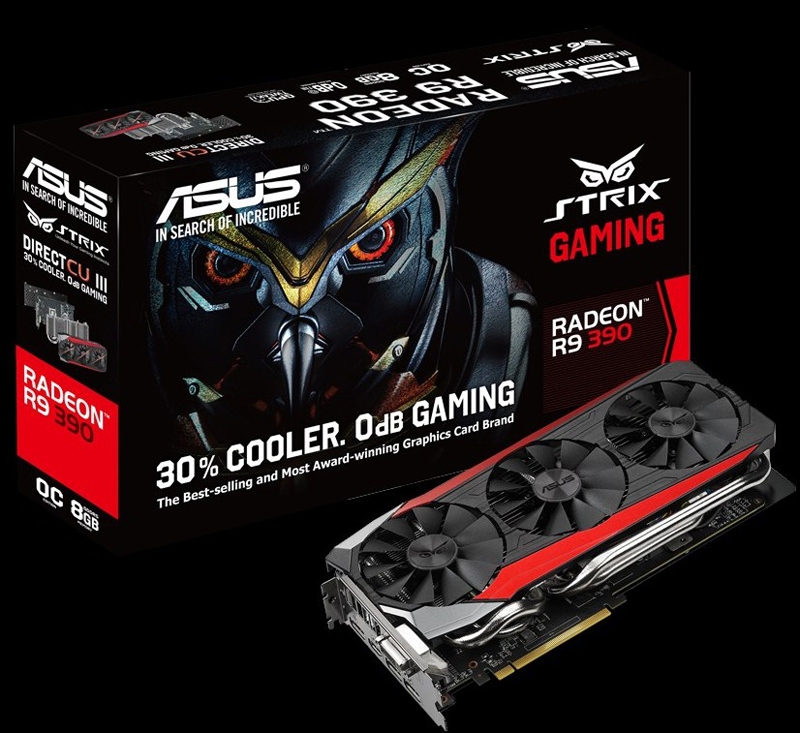 The main feature of video cards is the company cooling system Strix Directcu 3. It includes nickelled copper heat pipes with a diameter of 10 millimeters, a massive aluminum radiator and three 100 mm fans. Moreover, coolers begin to rotate only when the temperature exceeds a certain threshold, so that when performing office tasks and a small 3D loading of the video card do not make noise.
Information about the price of new products at the moment.
Source: