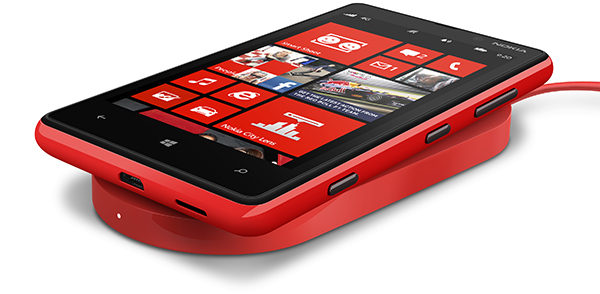 At the past joint presentation, Nokia and Microsoft managed to present Windows Phone 8 smartphones in a very profitable light — Lumia 920 and Lumia 820, which was due not only to the technical innovations of these devices and significant improvements in the operating system, but this was also facilitated by the released branded accessories.
Lumia 920, and to some extent the youngest model, became one of the few after HP PRE 3 smartphones that received wireless charging. This circumstance demanded that the company take care of the release of relevant accessories.
Nokia introduced as many as four options for wireless charging, which can be used with both new smartphones, but provided that Lumia 820 will be equipped with a lid with support for charging by the Qi standard.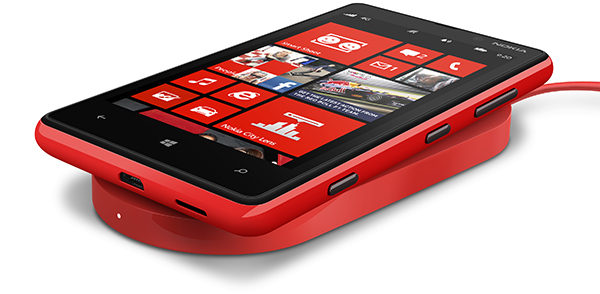 First — Wireless Changing Plate DT-900 — made in the form of a compact platform with an indicator of complete charging. The accessory can have one of the standard colors: white, yellow, blue, red and black. The adapter can be connected to alternating current networks with a voltage from 100 to 240 V. Working temperatures — from -5 to +45 degrees.
The second version of the charger — Fatboy Rechargeable Pillow DT-901 — It is notable for the fact that it is sheathed with a cloth that allows you to do with a smartphone without unnecessary accuracy, putting it on charging. This size «pillow» Significantly more than a plastic platform. Unfortunately, judging by the launched marks, it is advisable to centrize the smartphone for more efficient charging. The accessory is available in 5 color options.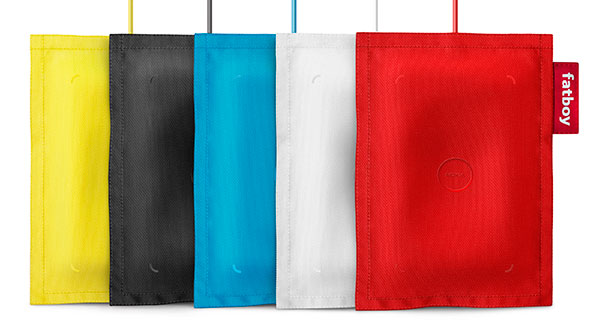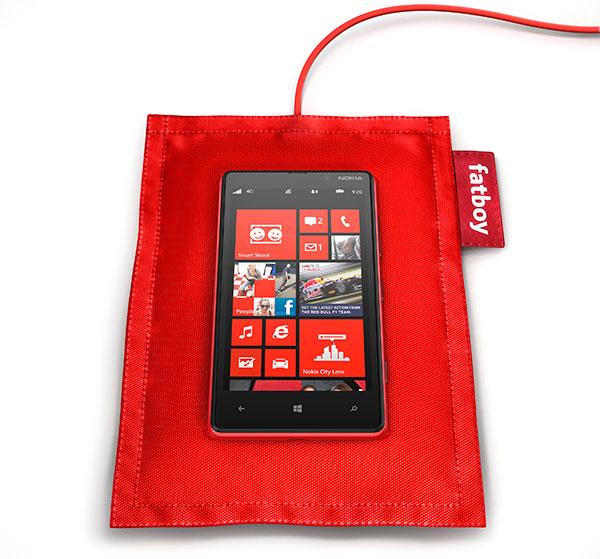 Nokia is the most advanced charger from Nokia is Wireless Chargin Stand DT-910, made in the form of a vertical stand, which allows you to use the smartphone with convenience during charging. Moreover, the integrated NFC chip allows you to run the application preinstalled by the user when placing a smartphone on the platform: it can be a music player, radio, watch, just a screensaver or any other option that the user will need. Black and white color performances are available.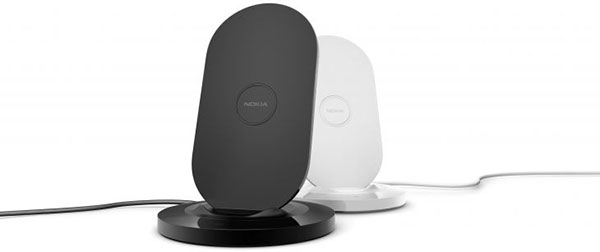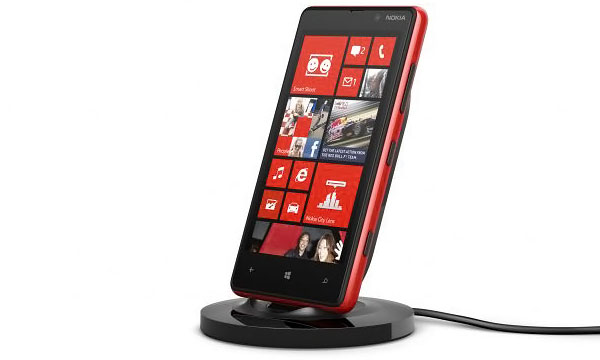 The fourth version of a wireless charger for the last Lumia smartphones is a 10-place PowerUp Wireless Changing Speaker for Nokia stereo from JBL. It installed a couple of 2.5 "broadband speakers. It has a built -in charging area, NFC and Bluetooth 2 chip.1, due to which sound reproduction is carried out at a distance and you can start it, just bringing a smartphone to the column. The radius of action Bluetooth — only 10 m, and NFC — 15 mm. Sound wireless transmission is carried out using the APT-X codec.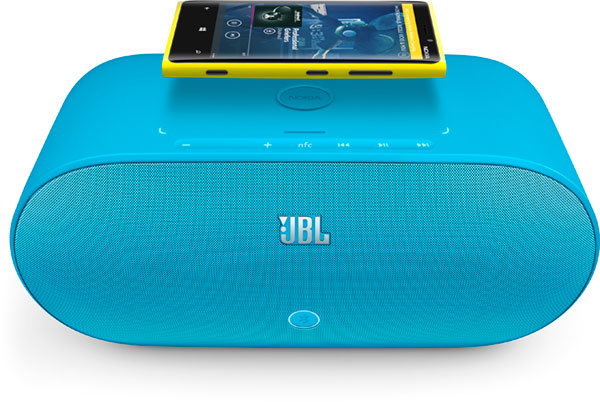 Although acoustics are released for Nokia, it supports work with other compatible devices. The device contains a number of indicators and buttons with which you can control the player of the mobile device thanks to the AVRCP 1 Bluetooth profile.4. The speakers can play sound in the range from 65 Hz to 20 kHz at a maximum volume of 94 dB. The sizes of the column are 115x280x145 mm, and weight 1.59 kg. The device is available in three colors: black, white and blue.
Another accessory is the compact column JBL Playup Portable Speaker for Nokia weighing 760 g, made in the form of a cylinder with a diameter of 128 mm and a similar height. It does not have a built-in wireless charging, but has a replaceable lithium-ion battery of 1430 mAh, which allows it to work autonomously for 10 hours. Charging is carried out through the port of Micro-USB. There is an indicator of the degree of discharge of the battery.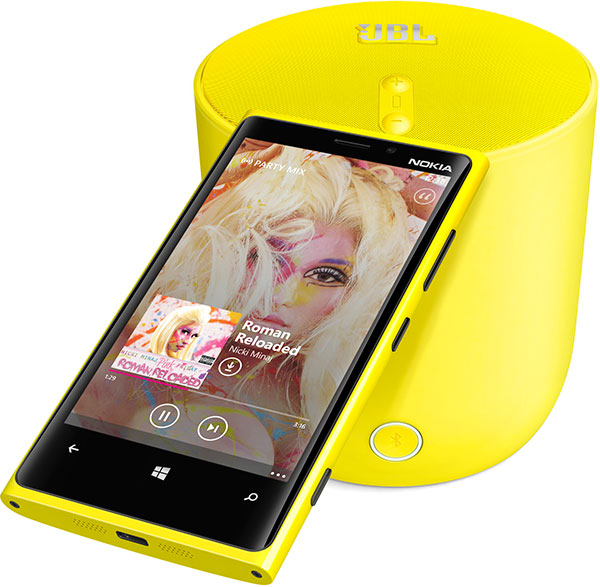 Along with NFC and Bluetooth 2.1 there is a standard 3.5 mm audio dress, expanding the range of compatible devices. Thanks to the three built -in 1.75 "speakers, the column has a power of 3 watts and radiates the sound of a circular focus with a maximum volume of 89 dB and a frequency range from 85 Hz to 22 kHz. Thus, despite the presence of a phase inverter in the area of the bass, a certain failure is observed. The column will be available in four typical colors, except for red.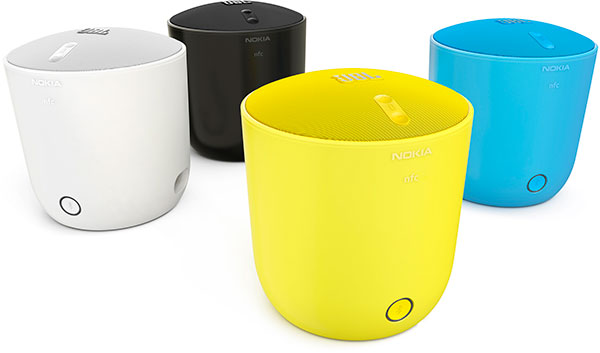 Nokia Purity Pro Wireless Stereless HeadSet Falia Purity with a headset released by Monster are also designed for use with new smartphones. They are wireless, have support for NFC, Bluetooth 3.0 and the APT-X codec, are able to work autonomously for 24 hours thanks to the built-in lithium-ion battery. They can also be connected through a 3.5 mm audio tag.
40-mm diffusers with a resistance of 32 Ohms provide good frequency coverage 20—20,000 Hz. Among the interesting features can be called: the charge indicator, voice and sensory control, the ability to fold outpatules, sensory control keys, the functions of noise and echo, automatic shutdown, execution options in four colors, except for blue.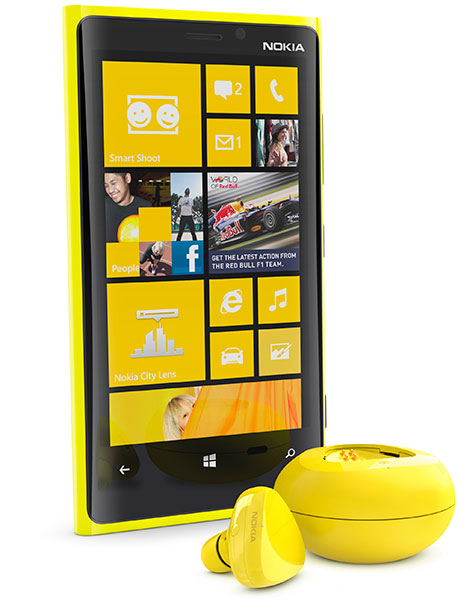 Nokia also introduced the Luna Bluetooth HeadSet mono-heading with wireless charging. It looks very unusual: in a folded state, it is placed inside the charger, which can be connected to a power source via micro-USB or simply put on a QI platform. When pressing the triangle in the upper part, the headset is removed from the charger and can be used for its intended purpose for 8 hours. The weight of the headset itself is 5 g, and the total set —18 g. NFC and Bluetooth 2 technologies are supported.1 + Edr, as well as voice control. All five color performances are available.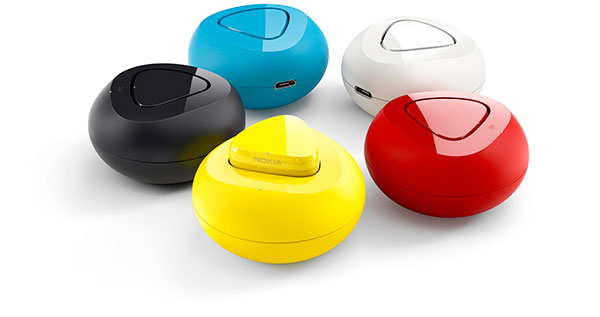 Among the accessories should also be mentioned by interchangeable colored covers on Lumia 820, which can have protective, water-repellent properties or provide a smartphone with support for a wireless Qi-compatible charging.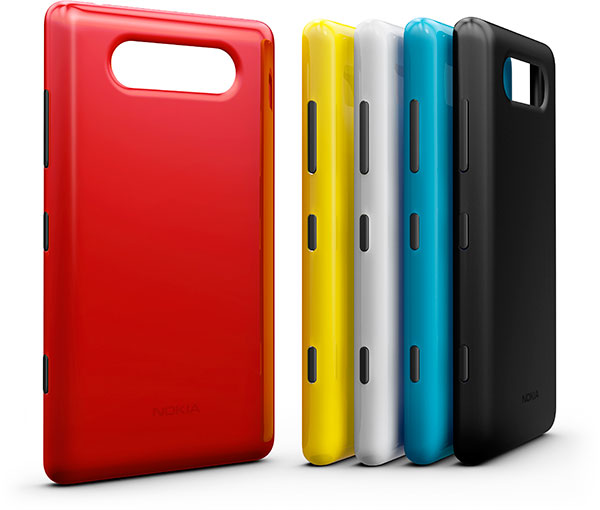 A very important issue of prices for all listed accessories remains open — Before the exit of the smartphones Lumia 920 and Lumia 820, they are unlikely to be officially announced. As Nokia noted at the past event, a number of interesting details will remain unsolved until the time.
Source: