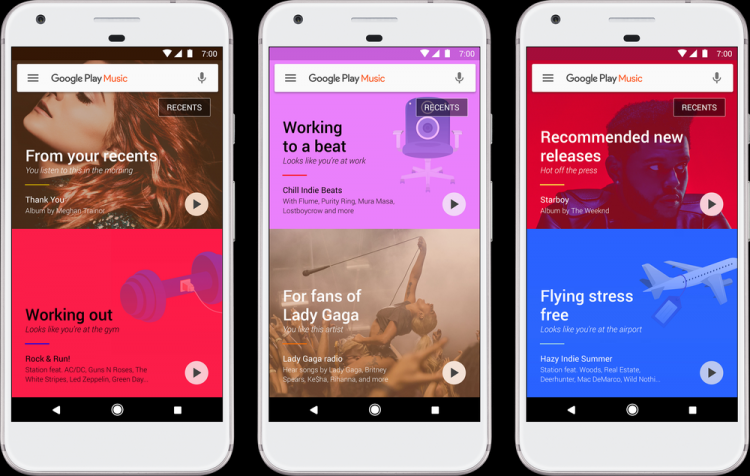 Using machine learning technologies, information about the location of the user, the weather and what he does, the application provides a number of playlists who must correspond to the mood in which a person is in, what he does at this moment, and so on. «In a global sense, mission Google — Make a world of information truly accessible and useful for people», — Elias Roman, leading Product Manager Google Play Music, stated.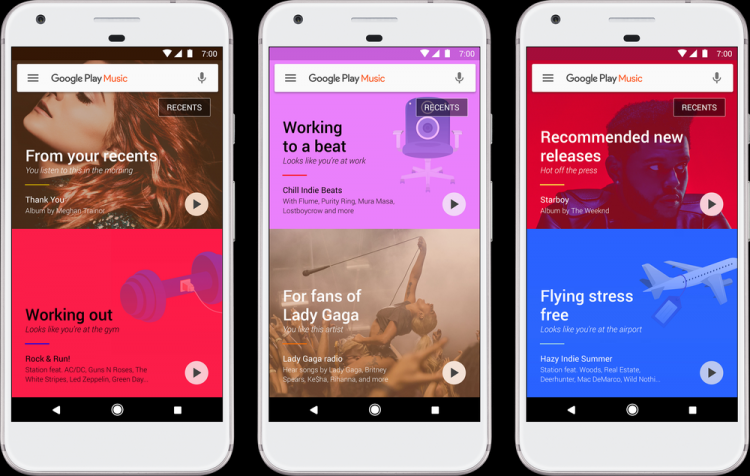 Each time, opening a musical application from Google, the user will see a completely updated list of content. On Saturday, for example, the service can offer playlists for various kinds of parties, and on Sunday during the day — compositions for home holidays and dinner preparation. The interface consisting of cards in many ways resembles a personalized search service Google Now.
However, all this Google Play Music is now not limited. The more a person uses the service, the better. For example, if the service «See», that the user visits the gym every week, he will offer him a training playlist. If a person first goes on a trip to any country, then the application will offer him a playlist corresponding to the culture of the country.
It is worth noting that no streaming music service today has such opportunities. Spotify has personalized playlists like Discover Weekly, but they simply introduce the user with new music, but do not adapt to the activity of a person and his mood. Spotify has playlists in the mood, but they are not updated very often and do not have the flexibility that the application from Google received.
Among other things, for paid subscribers in the Google Play Music, a personalized offline player will now have to be prepared now — Especially for those moments when a person does not have access to the Internet.
Source: