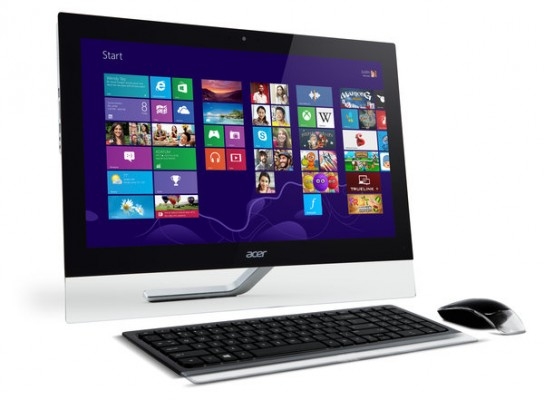 Together with the Acer DA241HL monoblock, the Taiwanese company presented today in Berlin a number of models in the form factor (All-In-One, AIO) under the control of Windows 8, designed to use all family members — Acer Aspire U5-610, Aspire Z3-105 and Aspire Z3-610.
Monoblock Acer Aspire U5-610 C 23" Full HD screen is positioned as «Ideal home monoblock for a modern user». The device is based on the fourth generation of Intel Core processors with the NVIDIA GeForce GTX 760M graphic accelerator.
The specifications of the computer also include 16 GB of RAM, a webcam with a Full HD resolution and a wide viewing angle (FOV) up to 75 degrees. Acer Purified technology.Voice due to the suppression of noise in the background ensures high audibility of the voice during video chat. And the Acer Remote function helps manage Windows 8 through a mobile device on iOS or Android. When connecting to the IOS or Android monoblock via Wi-Fi or Bluetooth connection, a number of applications for remote access to media files and Windows 8 Metro, as well as other functions, instantly opens up.
Aspire Z3-105 with a 23-inch touchbone Full HD IPS display is based on an AMD four-core processor with a graphic solution of Radeon. In turn, the 23-inch monoblock Aspire Z3-610 with the sensor Full HD IPS display uses the fourth-generation Intel processors along with Intel or Nvidia GeForce GT 740M.
In Russia, the Acer DA241HL monoblock will appear in mid -November with a starting price of 18,990 rubles., Acer Aspire U5-610 will be available since December with a starting price of 54,990 rubles., Acer Aspire Z3-105 — In mid -November with a starting price of 35,990 rubles., Acer Aspire Z3-610 — In the middle since December with a price of 32,990 rubles.
Source: