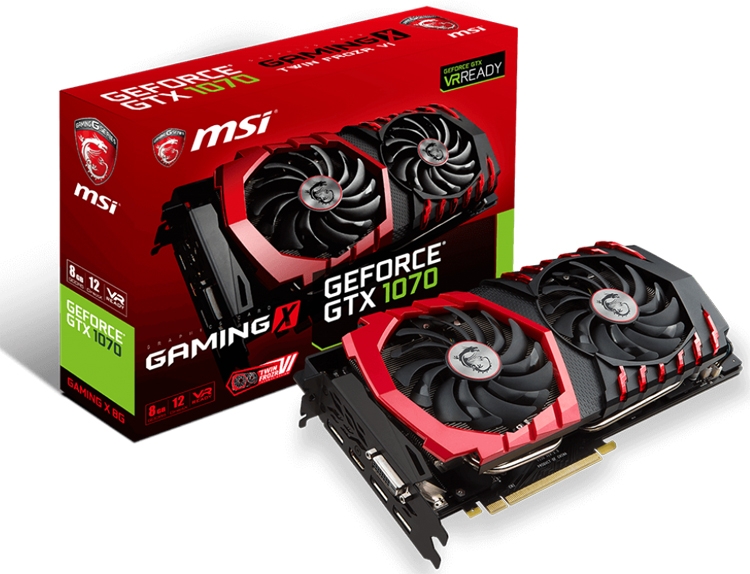 MSI has announced a powerful GEFORCE GTX 1070 Gaming X 8G graphic accelerator, positioning as a solution for virtual reality systems and gaming desktop computers.
The video card is based — NVIDIA GP104 16-nanometer with Pascal architecture. In this case, the configuration of the product includes 1920 stream processors, 120 texture modules and 64 block operations with raster operations. The base frequency of the chip nucleus is 1506 MHz, frequency in mode «turbo» — 1683 MHz. The chip operates in tandem with 8 GB of GDDR5 memory with a 256-bit tire and a frequency of 8012 MHz.
The novelty of MSI received the advanced cooler Twin Frozr VI, which is worth talking about more. The configuration of this cooling system includes two Torx 2 fans.0: Their dispersion blades have a coolest profile, which contributes to a greater acceleration of the air flow and increase the efficiency of cooling. At the same time, two -row bearings provide a long service life and low noise level. By the way, the fans completely stop if the GPU temperature is at a mark of less than 60 degrees Celsius.
The cooler also includes a radiator with complex architecture: Airflow Control technology directs more air to heat pipes. The latter have a square profile and a smooth surface at the site of contact, which improves heat transfer to the radiator.

Accelerator offers three operating modes. In silent Silent Mode, the operating frequencies correspond to the reference values. In Gaming Mode mode, the basic and forced nucleus frequencies rise to 1582 and 1771 MHz, respectively. Finally, in OC Mode mode, these indicators increase to 1607 and 1797 MHz.
The video card is equipped with an amplifying plate and backlight with support for effects. DisplayPort 1 interfaces are present.4 (×3), HDMI 2.0 and DL-DVI-D. The dimensions of the card — 279 × 140 × 42 mm.
Source: