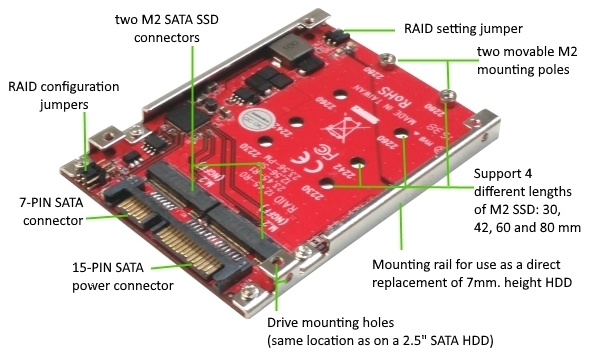 Solid -state drives in format m.2 are very convenient. Not much exceeding the dimensions of the plate of chewing gum, they are perfectly installed on most modern system boards, without blocking the expansion slots and without occupying disk compartments. But what about those who do not have a slot m.2, and the available drives in this format use the SATA interface, not PCI Express? The Addonics Dual M2 SSD adapter (AD2M2SAR model) will help such users.
It costs only $ 34, the dimensions completely coincide with the standard 7-mm harsh format of the 2.5 format″, but at the same time allows you to install a couple of drives M.2 type 2280 or less. Such systems are not new, but often use the JBOD mode, which does not give any gain in performance. Addonics solution supports not only JBOD (aka BigDrive), but also RAID 1 and 0 modes, as well as the work of modules Modules.2 separately.

A set -out controller is responsible for this, so the installation of drivers is not required: the device from the point of view of the OS is, depending on the regime set by jampers, one or two solid -state drives. The external interface of the adapter is quite ordinary, SATA 3.0, so even in RAID 0 mode to jump above 6 Gb/s will not work, but you can win in speed using a couple of not the fastest SSD with a volume of 120-128 GB, which, as a rule, do not use the NAND controller and do not workin full force. And the RAID 1 mode will come in handy for those who value reliability above all.
Source: