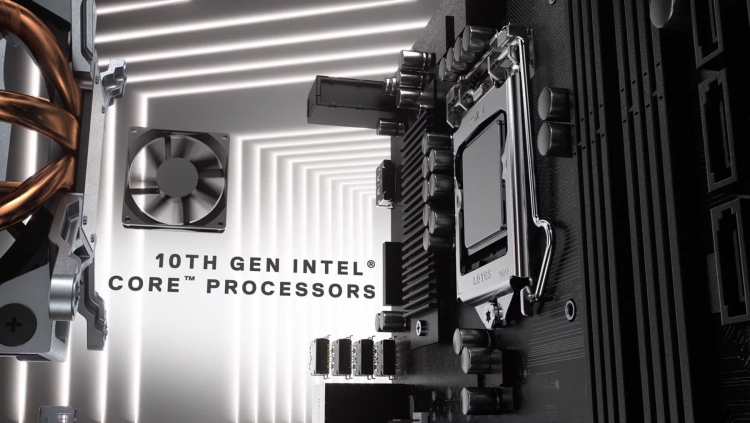 Thanks to the new advertising video from Dell, it became known that the processors of the 10th generation Intel Core I are no longer around the corner. Comet Lake-S chips will form the basis of the new desktop computers Dell XPS Tower.
Until now, we have seen the consumer chips of the 10th generation Intel only in mobile performance on laptops, and not on desktop computers. With the exception of the recent leakage of the Intel Core i9-10900K testing results in the 3DMark benchmark: a 10-core 20-flow processor with frequencies of 3.7/5.1 GHz showed a small lag from the 24-flow AMD Ryzen 3900x.
Intel has already released the X series chips, including the flagship i9-10980xe with 18 cores. However, contrary to naming, these are 9th generation processors. And the 10th generation Core I will have to replace the current productive chips i9-9900K (and below) for desktop PCs.
New processors are very important for Intel in the fight against the AMD Ryzen 9 family of the third-generation chips, including the flagship 12-core Ryzen 9 3900x with a recommended value of $ 499. Unfortunately, the Comet Lake-S family will continue to use the 14-nm Intel process process, while in its latest AMD models it switched to 7-nm lithography.
It can be expected that Intel will present a full family of chips from the 10-core i9-10900K to replace the i9-9900K to the 8-core i7-10700K and up to the Core i5 and i3 processors with six and four cores, respectively. Reportedly, to maintain competitiveness, Intel will reduce prices and bring Hyperthreading to all processors of the series (currently only the Core i9 chips are multi -back). Thus, the Core i7-10700K should receive eight nuclei and 16 streams, and i5-10600 — Six nuclei and 12 streams. It is reported that even the four -core Core i3 will have multi -pass.
However, the new processors will probably lose the Ryzen 9 in energy efficiency, consuming up to 300 watts at the maximum load. Another problem for Intel is that already in the third quarter of 2020, AMD will release the fourth generation Ryzen chips.
Source: