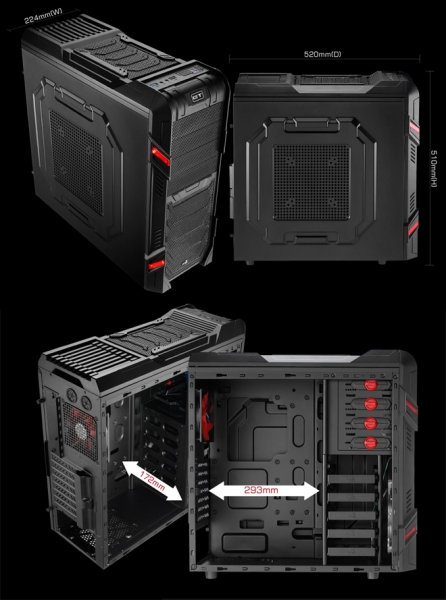 In the assortment of Aerocool Advanced Technologies (AAT) of MID Tower Format, the GT-R model for lovers to participate in Lan Party, which is produced in two color accents and precisely in completely black with red-blacks with blueaccents.
The novelty has dimensions of 510 x 224 x 520 mm, made of sheets of steel of the SECC brand 0.7 mm thick and compatible with maternal boards of Micro-ATX/ATX standards. It is equipped with four external 5.25-inch compartments, has internal seats for six 3.5- or 2.5-inch drives, equipped with seven expansion slots, allows you to install graphics cards up to 293 mm long and allows the use of a CPU-cooler high up to 172mm. Up to six fans at the same time can engage in the optimal temperature regime inside the case, however, only two are initially included in the supply kit «Propeller» (180-mm in front and 120-mm from behind). In addition, it is possible to use a water cooling system, for laying the hoses of which special holes are provided on the back wall. As for the set of interfaces displayed on the top cover, it consists of USB 2 ports.0 and USB 3.0, as well as nests for connecting headphones and microphone.
In Europe, buy modifications GT-R Black Edition and GT-R White Edition now for 60 euros and 65 euros, respectively (prices are indicated without personal accounting).
Source:
Aerocool Advanced Technologies (Aat)