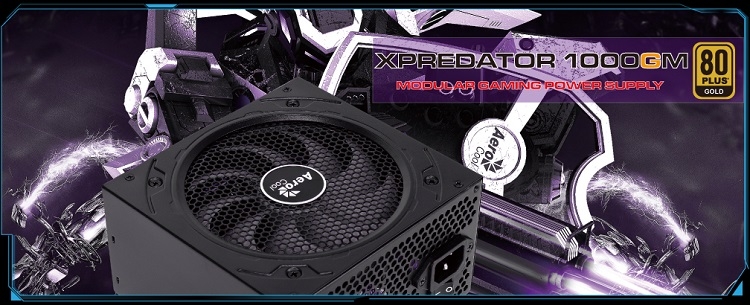 Aerocool introduced a series of XPREDATOR GM power supply units. Users are offered models with a capacity of 550, 650, 750 and 1000 watts, so everyone can choose a suitable option, even the owner of a productive game PC with the highest requirements.
All new items have been certified by 80plus Gold, which guarantees high efficiency at different load levels. The manufacturer recommends using a 550-in power supply for game systems with one video card, 650-VT and 750-in models will be enough for a PC with two accelerators, and a kilowatt PSU can provide a stable power system with three video cards. There is also an architecture with one line +12 V, various protection schemes, support for C6/C7 Intel Core processors.
The XPREDATOR 1000GM model is characterized by the maximum load current of 83 A on the +12 V line, differs from the younger brothers with an increased number of PCI-E-E power cables, additional SATA Power connectors, an effective and quiet 140 mm fan. 550-, 650- and 750-in models are equipped with a 120 mm fan.
The key is the issue of price, but it, unfortunately, remains closed so far.
Source:
Aerocool Advanced Technologies (Aat)