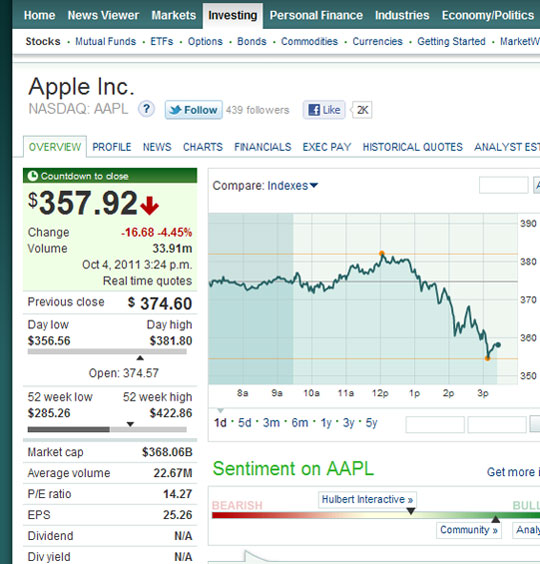 The applause of those present at the presentation in the Apple campus of the new version has not yet been silent «Apple» a smartphone called the iPhone 4s, media representatives and business circles, as almost immediately followed by a reaction to this event of the Nasdaq American stock exchange.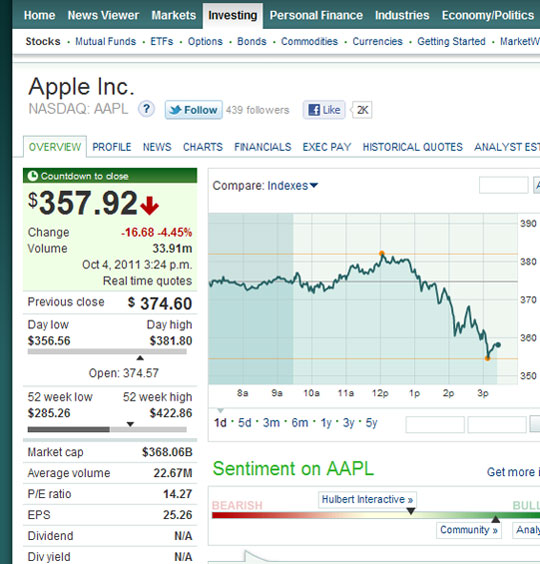 Apparently, investors were not impressed by reports of the upcoming IPhone 4S release, as well as reducing prices for existing versions of iPhone smartphones and iPod players. In just a couple of hours after the end of the action, Apple's quotes fell by 4.45% and, apparently, this is not the limit, since the process of falling the value of the shares does not stop.
In the morning, the opinions of analysts and experts will become known, but for now we note that Apple once again showed himself a skilled strategist who can create a stir around any event.
With all the positive qualities of the iPhone 4s, which still have to be analyzed, it should be noted that they still expected the iPhone 5 — revolutionary smartphone, not an improved version of the current «IPhone».
Update. It is curious that by the time of the closing of the NASDAQ exchange, the Apple shares had practically played a fall, and the decrease at the end of the day was only about 0.64%. Let's see how exchange players will behave tomorrow, after numerous comments of experts regarding the announcement of the iPhone 4s.