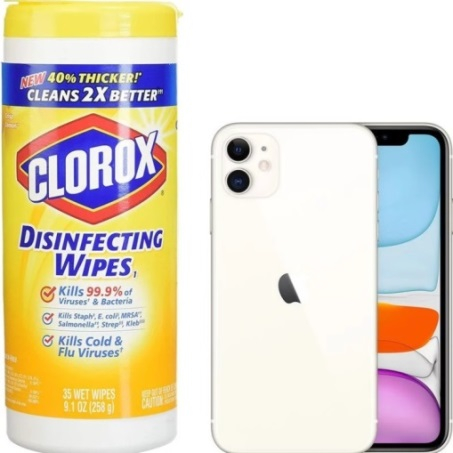 Apple has officially announced that iPhone and iPad users can without fear of wiping their devices with wet wipes, impregnated with a 70 percent solution of isopropyl alcohol, as well as disinfectant Clorox production wipes. Information about this was published in the description of the rules for the care of Apple devices on the company's technical support website.
In the past, Apple did not recommend the use of any cleaning agents, warning that chemicals can damage the iphone and iPad displays oleophobic. Now Apple does not recommend using aerosols, winding products, substances with ammonia, bleaching, hydrogen peroxide, abrasive materials, etc.
"Using a napkin saturated with a solution of 70 percent isopropyl alcohol or Clorox disinfectants, you can gently wipe the hard, non-rowing surfaces of your Apple device, such as a display, a keyboard or other external surfaces. Do not use whitening agents. Avoid moisture entering any holes and do not immerse Apple devices into cleaning products", – says Apple.
The updated rules for avoiding Apple devices appeared against the backdrop of an outbreak of coronavirus, which continues to spread around the world. Given that many iPhone users and other Apple devices constantly interact with their gadgets, it is important to be able to disinfect them.
Journalists of The Wall Street Journal, as reported, have already managed to check in practice new recommendations for cleaning displays. In the experiment, they used the new iPhone 8, the display of which was wiped with Clorox cloths 1095 times. Approximately so much wiping can make an average iPhone user in 3 years. As a result, they found that after such numerous wiping the IPhone 8 display remained in good condition, any visible damage was not formed on it.
Sources: