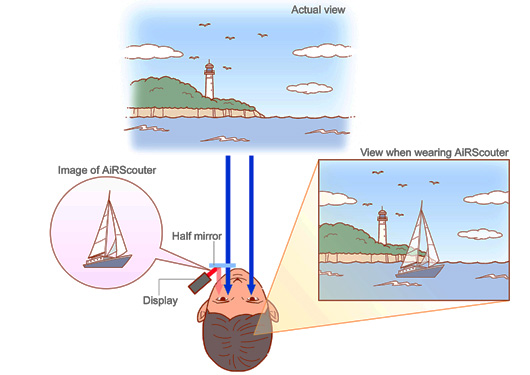 Sometimes futuristic gadgets cease to be concepts, leave the limits of research laboratories and enter serial production. So, Brother announced the readiness to bring AIRSCOUTER glasses to the market, equipped with a transparent LCD display. They were first demonstrated back in 2008.
A transparent screen built into one of the glasses creates a picture equivalent to an image of a 16-inch screen at a distance of one meter. For commercialization of the project, Brother concluded a transaction with the NEC, which uses this technology for its company computer Tele Scouter, whose new version will be released this fall. Brother offers to use AIRSCOUTER, for example, when assembling parts, the device in interactive mode tells the specialist what components are needed and how they should be fixed. But in fact, this device has an unlimited number of use options, their assortment depends only on the fantasy of the user. The display resolution is 800×600 points, it boasts with a brightness of 600 kD/m2, And the Airscouter weighs 106 grams.

Materials on the topic:
4.5-inch high-resolution display LG AH-IPS;
Brother introduced in Russia a color laser laser MFC MFC-9465CDN with a duplex seal;
The LG A530 laptop is equipped with a 3D screen and a double camera for 3D setting.
Source: