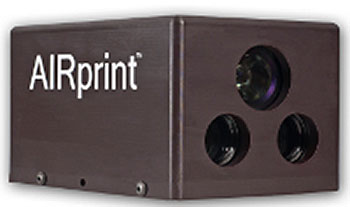 Those who do not believe in the safety of biometric technologies prefer not to add their fingerprints to government databases, they will soon have to constantly wear gloves. Advanced Optical Systems has developed an AirPrint device, which collects fingerprints from a distance of two meters. To do this, she uses a pair of 1.3-megapixel chambers and polarized light, to solve this problem there are enough of them.
So, two 1.3-megapixelnaya perceive light in different ways, one «sees» it is in vertical polarization, and the other — In horizontal. When the light from the built -in source enters the finger of a person, it is reflected from the papillary lines. At the same time, it is reflected from the crests in one polarity, and from the grooves — In another. Having cut off the pictures on vertical and horizontal polarity, you can get a clear image of a fingerprint from a large distance. And their further comparison with samples from the database is already becoming a matter of time.
The existing prototype has yet to limited functionality. He can scan only one finger at a time and should remain at a strictly defined distance to give an accurate result. Data processing time is 4 seconds. Of course, future versions will be able to process several fingers at a time and spend less than a second on this to fix the fingerprint right on the move.
Source: