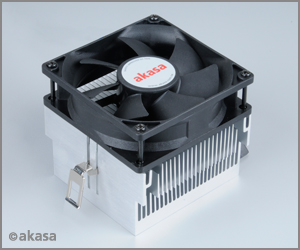 AKASA expanded the assortment of its active air cooling systems for central processors due to the release of the budget model AK-860EF.
The novelty with dimensions 80 x 80 x 70 mm with a weight of 380 g is designed to organize effective excess heat from AMD chips athlon/athlon II/Phenom/Phenom II performed by Socket 754/939/AM2/AM2+/AM3.95 watts. A 80-mm fan is installed on its aluminum radiator, designed on average for 30,000 hours of non-precious operation. In a neglected state, it rotates at a speed of 2500 revolutions per minute, pumps up to 30.19 cubic feet of air per minute and creates noise at 24.9 dB.
The price of the product and the timing of its mass sales are not yet announced by the developers.
Source: