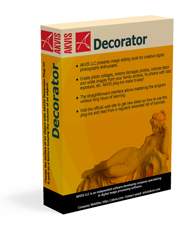 The Akvis Decorator library has a huge number of various textures that imitate a variety of materials – wood, metal, stone, fabric, grass and much more. Textures settings can be changed, it is also possible to load the own surface drawings and simple repainting of the object into another color without using textures.
The third version of Decorator is presented in the form of an independent program. Also added to create and edit selection directly in Decorator, new surfaces appeared to the texture library, and the possibility of using almost any image in the form of texture was added. The interface and the application icon has also changed, for the plugin added support from the editors Photoshop CS6 and Photoshop Elements 11.
Download the demo version of the program for Mac and Windows, the work management and video tutorial can be from here.
Source: