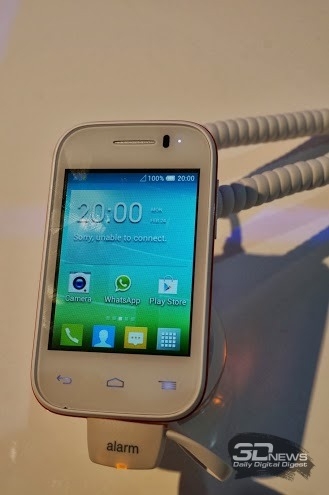 TCL (Alcatel brand) on the eve of the start of the international consumer electronics exhibition Mobile World Congress 2014 (MWC 2014) introduced along with Alcatel OneTouch 2 and OneTouch 2 Mini models «Wearing» Alcatel One Touch Pop Fit smartphone for fitness lovers.
Alcatel One Touch Pop Fit belongs to the budget segment, its price is equal — 89 euros. Smartphone specifications include 2.8" display with QVGA resolution (240×320 points), a dual -core MediaTek chip with a clock frequency of 1 GHz and 512 MB of RAM. Despite the small price, One Touch Pop Fit has 16 or 32 GB of internal memory on board. It is also reported about the front 2-MP camera and a battery with a capacity of 1000 mAh.
Five -back covers of different colors (black, blue, yellow, pink, red), as well as a translucent folding cover with touch buttons for managing the work of a musical player, tape for fastening the apparatus to the arm and the JBL headphone and the JBL header, are supplied with the smartphone.
The pre -installed smartphone applications include «personal trainer» Runkeeper, Doubletwist music player and Fleksy virtual keyboard. Alcatel One Touch Pop Fit will come on sale in May.