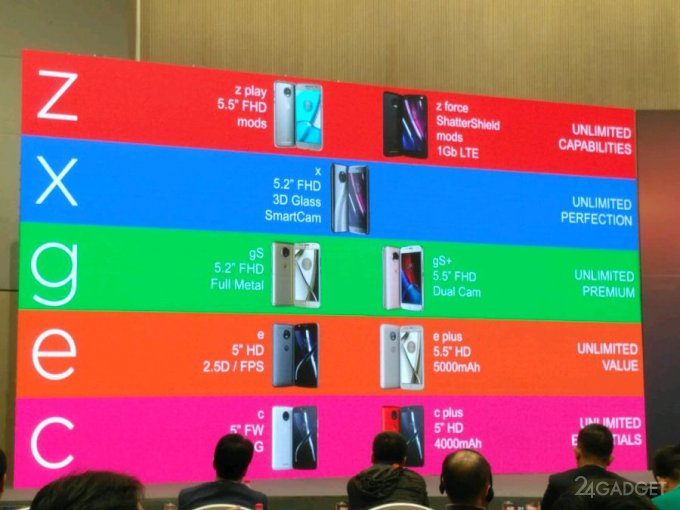 What novelties of the Moto brand are waiting for this year? The famous insider Evan Blass published on his Twitter page a photograph taken in the closed presentation of the organization. The picture captures a slide with all future smartphones of the Moto family. There are 9 models in total.
The flagship models of the Z series, judging by the image, will receive 5.5-inch Full HD displays and support for Moto Mods interchangeable panels, which other smartphones of the Moto family do not have. The applied Shattershield technology will protect the screen from damage when falling from a high height and a stroke on a solid surface. True, only Moto Z2 Force will turn out to be inconsistent, Moto Z2 Play does not have this item.
New Moto X will receive 5.2-inch display, smart main camera (according to rumors, double) and a case of 3D glass and metal capable of protecting the device from water and dust according to the IP68 standard. It is also said about a certain Smartcam system.
Moto GS and Moto GS+ devices can be improved versions relatively new Moto G5 and G5 Plus. They are attributed to Full HD displays with diagonal 5.2 and 5.5 inches, respectively, all -metal buildings. The senior model will be awarded a double camera.
The budget Moto E4 will be equipped with a 5 -inch display diagonally with a resolution of HD (1280×720 pixels), the senior version of Moto E Plus will be awarded 5.5-inch screen and battery for 5000 mAh. An even more affordable pair will be Moto C and Moto C Plus with a 5-inch display. Screens – 800 × 480 pixels and 1280 × 720 pixels, respectively. The battery capacity of Moto C Plus will be 4000 mAh.
There are no exact information about the dates of announcements and releases yet.
Source: @Evleaks