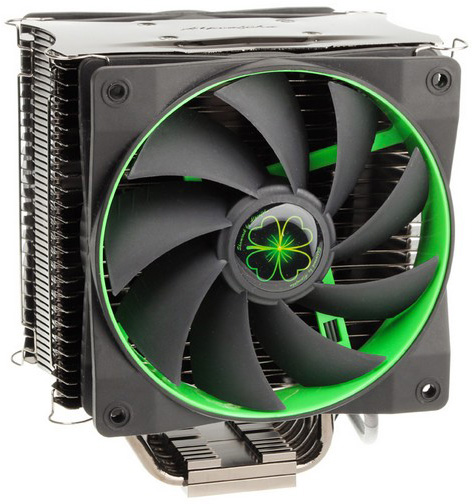 EKL announced the release of a special «Clover» versions of its powerful processor cooler AlpenföHn Matterhorn of the Tower type, called Shamrock Edition.
The novelty is offered in a beautiful black-green version, has dimensions 138 x 156.5 x 100 mm and weighs 1097 g. It has a copper base covered with nickel and six copper U-shaped heat tubes 6 mm thick each. The tubes penetrate the numerous thin plates of an aluminum radiator, on which two 120 mm fans of the Wing Boost Shamrock Edition series are installed. «Propellers» They are equipped with a rotation speed control function by the method of wide-pulse modulation in the range from 500 to 1200 revolutions per minute and in a neglected state are pumped up to 100.5 cubic meters of air per hour, creating noise from 8 to 23.2 dB. At the same time, the mounting system is compatible with Socket LGA775/1155/1156/1366/2011 (Intel) and Socket AM2/AM2+/AM3+/FM1 (AMD).
You can purchase the product now exclusively through the German online store Caseking.de at a price of 60 euros.
Source: