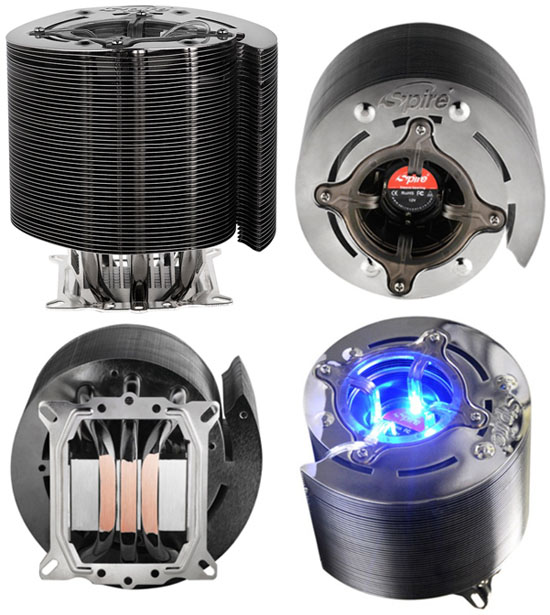 Among the processor coolers produced by Spire, the Swirl III model appeared, ready to effectively remove excess heat from Intel chips to Socket LGA 775/1155/1156/1366/2011 and AMD performed by Socket AM2/AM2+/AM3.
The model has a base from which three U-shaped copper heat pipes of 8 mm thick, each, enter into direct contact with the CPU surface. The tubes pass through an aluminum radiator, which is dedicated from many thin plates, in shape similar to the digit «9». Inside «cylinder» A 60 mm fan with a blue LED backlight is placed, the rotation speed of which in a neglected state changes in the range from 600 to 2000 rpm. During work «propeller» pumps up to 83.12 cubic feet of air per minute and creates noise no higher than 25 dB. In this case, the overall dimensions of the entire structure are 131 x 125 x 62 mm, and its weight is 690 g.
The product is supplemented with a portion of Bluefrost SP802 thermal paste and is provided by a 5-year quality guarantee from the manufacturer. Its price for the European market is set at 50 euros.
Source: