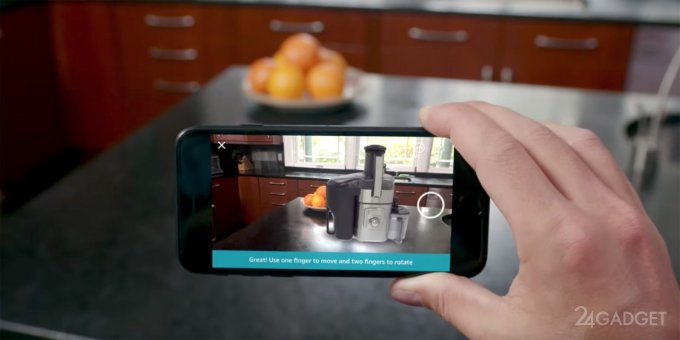 Augmented reality has found its embodiment in many areas of our lives: this is a completely new level of presentations, cultural events, exhibitions, it is a non-trivial approach to the education and upbringing of children, the expansion of the capabilities of the gaming industry, which allows you to go beyond reality, this is a new word in studyingbiology, including human anatomy and much, much more.
Recently, companies engaged in sales through the Internet are actively resorting to the capabilities of augmented reality application. So, a well -known company for the sale of furniture and goods for the house IKEA, two months ago, released the IKEA PLACE application, which allows a potential buyer to see its future purchase, as they say, "in all its glory" or, which is even closer to the truth, "from all sides",Try it on the parameters of your apartment literally up to a centimeter.
And here is the American company Amazon, another largest entity for the sale of goods and services via the Internet, included the same function in an augmented reality application for IPhone for its customers. The base for augmented reality in the Amazon application was the Apple Arkit platform. The created system scans the surrounding space and calculates the correct scale of commodity facilities. The program is available on the iPhone 6s and newer models with iOS 11.
A huge number of 3D models of various goods are already laid down in the online store catalog: furniture, electronics, kitchen equipment, plumbing and so on. In order for Ar View to earn and it is possible to see the product of interest through the function of augmented reality, you need to click on the camera button in the search bar and choose the desired product.
Those who expect from Amazon to support Android devices to include augmented reality application in them until there are reassuring signals, since this will require other technology, which the company does not have no access. Google has already introduced its analogue of Arkit called Arcore, but the developers got the opportunity to work on its implementation only a few months ago. So the question for Android remains open.
Source: Engadget.com