Information about the technical characteristics of the accelerated A10 6800K processor from Advanced Micro Devices (AMD), which should become a flagship among the new generation Richland, which is changing the Trinity family, has been leaked to the network.
If you believe the source, then this four-core model with a free factor will be made with 28-nm technological norms and will receive the integrated graphics of the AMD Radeon HD 8000 generation. The chip will be compatible with a new set of Bolton FCH chips, supporting up to eight devices with the SATA III interface, up to four USB 3 ports.0 and up to fourteen ports USB 2.0. The possibility of installing A10 6800K in the Socket FM2 connector is also reported. Moreover, the level of TDP this APU will not exceed 100 watts.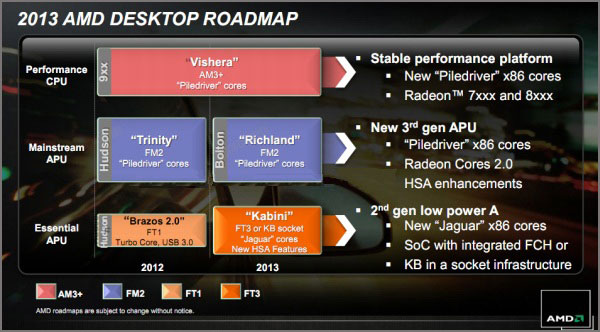 It is expected that the premiere of the first accelerated processors of the Richland generation (a quartet of four -core and two -core duet) will take place closer to the end of the second quarter of 2013.
Source: