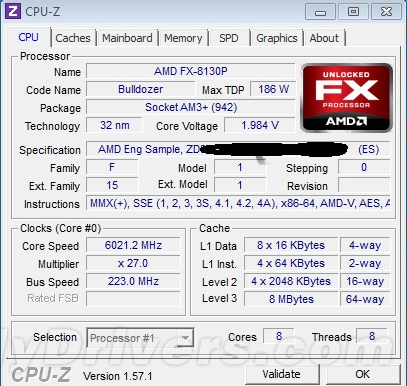 Many AMD supporters are sincerely sorry that the processors with Bulldozer architecture are delayed and will appear on the market no earlier than September. It would seem that for fans of Intel chips are good news. But the lack of competition does not reduce the retail cost of second -generation Core processors. The current note is called.
It is worth saying that all the information is submitted as «as it is». The probability of fake is high. Resource MyDrivers.COM published a screenshot of the CPU-Z utility with the characteristics of an overcameled engineering model of the processor FX-8130P. During the acceleration, all four 2-core blocks were active, and the operating frequency of 6021 MHz was obtained due to the multiplication of the support frequency of 223 MHz by the multiplier 27x. The voltage close to 2 V leaves the worker CPU FX-8130P only due to extreme cooling with liquid nitrogen.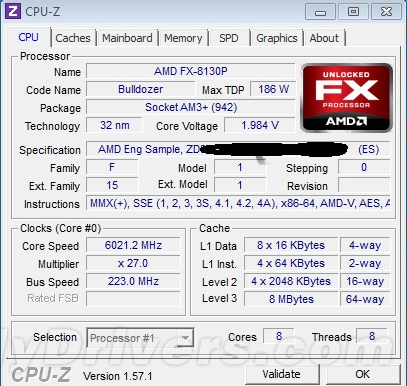 The level of TDP at the time of the creation of the screenshot was 186 watts, while in normal mode the thermal package does not exceed 125 W. It is very difficult to judge which stepping is the Zambezi crystal made on. Some sources say that the new Stepping B2 will appear no earlier than next month. So, the processor under discussion is made at Stepping B1. We will learn the whole truth in the coming months.
Source: