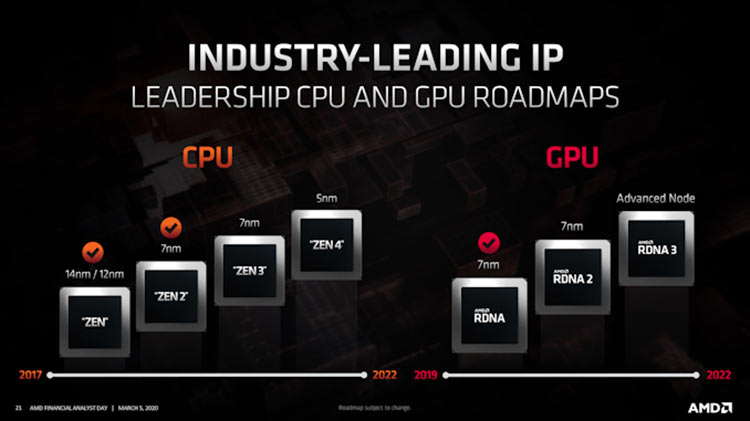 As part of the Financial Analyst Day 2020, AMD has submitted the latest updates to its plans for the release of new CPU and GP. In previous graphs of the same nature, AMD used the term "7 nm+" when mentioning products after the first 7-nm solutions. Today, AMD explained: this does not mean that TSMC N7+ standards are used for these solutions.
For clarity, we recall that TSMC has three high-level versions of its 7-nm technology process:
N7 – basic initial standards using only tools in a deep ultraviolet range (DUV);
N7P – version N7 of the second generation, which also uses only DUV;
N7+ – version using lithography in the extreme ultraviolet range (EUV) for a number of metal layers.

This nomenclature has been formed over the past year or so. But even earlier, AMD offered the public various plans for future processors and graphic accelerators. The company marked "7 Nm" with the Zen 2 architecture, which was legally interpreted by everyone as TSMC N7. And for future products like Zen 3 was used by the 7 Nm+marking, which was usually interpreted as N7+. However, this is not quite true.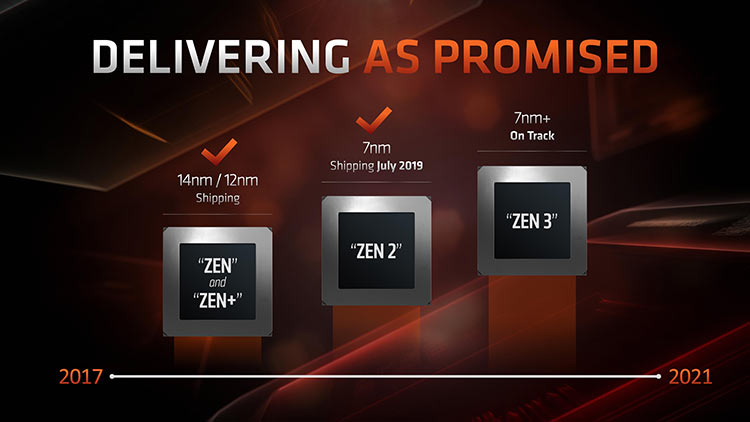 To avoid confusion, AMD removed the "+" sign in its last slides with plans for the output of products. When communicating with journalists, AMD confirmed that in its next generations of 7-nm products, an improved technology process and improved high-performance libraries for targeted markets will be used. However, the company does not say unequivocally whether it is talking about N7P or N7+ – it simply mentions improvements to Zen 3 and RDNA 2 compared to the basic process of TSMC N7.
This does not necessarily mean that AMD is not going to use the 7-nm EUV norms: perhaps in each case the company will choose between N7P or N7+. Nevertheless, while it is better not to count on chips N7+.
Source: