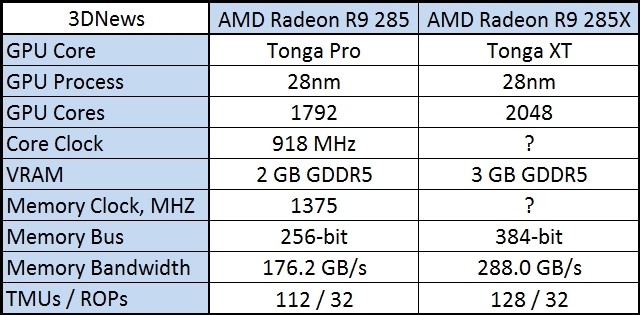 The debut of the AMD Tonga graphics processor turned out to be quite successful: Radeon R9 285, which was based on a new chip, showed excellent results for its class, becoming a dangerous rival for the GeForce GTX 760. But one type of weapon does not win the war, and on the eve of the appearance of the new Nvidia GeForce family, many are interested in the question — When the light sees a more powerful version of Radeon based on Tonga XT, R9 285X? It was previously expected that the enhanced version of Tonga will receive a 384-bit memory bus and decisions based on it will appear in September of this year.
But it may turn out that the fortune -telling about the width of the Radeon R9 285X bus, about the number of its shader processors or about performance in comparison with NVIDIA solutions will only be a game of mind that has nothing to do with reality. According to the Chinese resource Expreview.COM, representatives of the Graphic Unit Advanced Micro Devices do not confirm information about the imminent issue of Radeon R9 285X.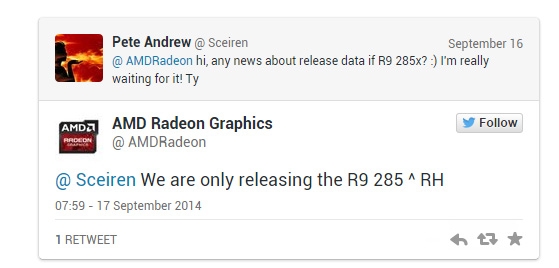 However, they do not refute: the recorded answer is extremely blurry and does not tell anything except the already known fact — release Radeon R9 285. It can be interpreted in all possible ways, from «We released the Radeon R9 285 and are not going to replenish this line of graphic cards in general» before «We released the Radeon R9 285 and do not want to say anything about the Radeon R9 285X». A rather typical manner of officials connected by numerous agreements on non -disclosure — report the facts without reporting, in fact, nothing useful. We hope that the senior model of the video adapter based on Tonga XT will still see the light, otherwise the strategic position of AMD in the discrete graphics market can significantly suffer with the output of the Nvidia GeForce GTX 960.
Source: