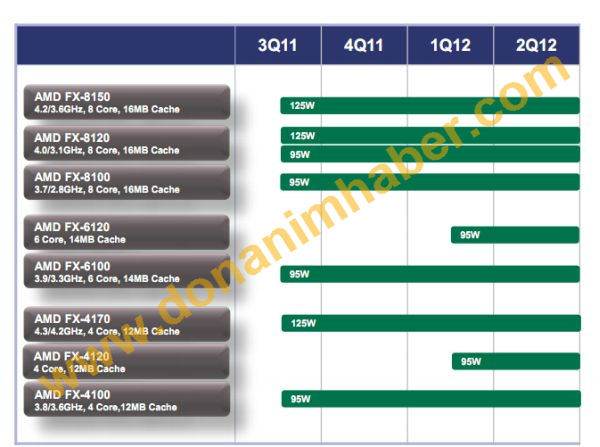 Less than two weeks remained before the scheduled press of the announcement of the FX series processors with architecture Bulldozer. We are already known to the main characteristics of the chips of the Zambezi family, and with the presentation of Gigabyte, this information also received official confirmation. However, one moment was still behind the scenes – Work frequencies under the Turbo Core 2 technology.0.
As usual, our Turkish colleagues from the Donanimhaber resource, who published AMD for the release of FX processors, distinguished themselves.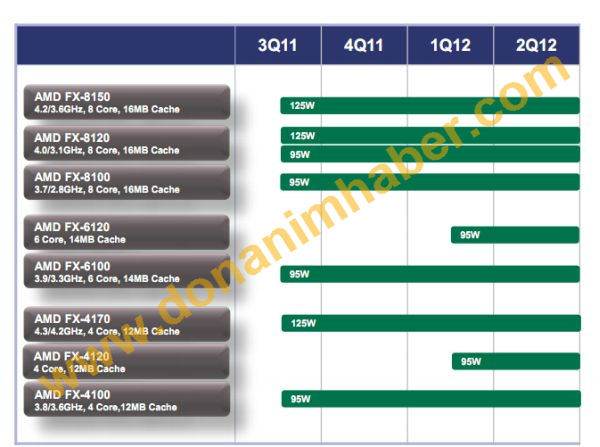 So, the current quarter will present the market with six Zambezi models with a different number of 2-core blocks. The FX-81xx chips will differ in working frequencies and will receive four 2-core blocks. FX-8150 flagship in turbing mode will be able to accelerate by 600 MHz, model FX-8120 and FX-810 by 900 MHz. Sixucater FX-6100 as part of the Turbo Core 2.0 will conquer 3.9 GHz at nominal 3.3 GHz. But the most «bold» The FX-4170 model will turn out to be operated in the standard mode at a frequency of 4.2 GHz with an increase of 100 MHz when the Turbo Core 2 activation.0.
Source: