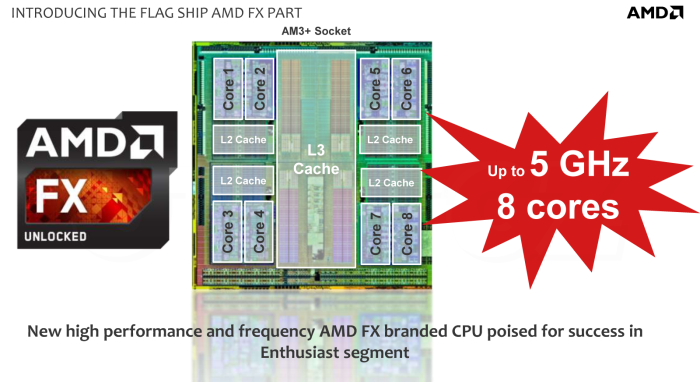 AMD FX-9590 and FX-9370 processors, which the company initially positioned as an elite proposals not distributed through the retail network for system integrators, finally officially got rid of their semi-underground status. In fact, it was possible to buy them before, but the availability was not universal, and prices, for lack of an officially designated guideline, fluctuated within the widest limits. Now everything has fallen into place: the fx-9590 and FX-9370, who had grown up under the pressure of harsh reality, occupied the dominant position in the lines of the AMD price list, where their prices are shamefully omitted relative to the initial 1000-dollar level.
So, the official price of an eight-core, based on the PileDriver microarchitecture, the FX-9370 processor with a frequency of 4.4-4.7 GHz is installed in $ 224, and its more speedy brother FX-9590, designed to work at frequencies of 4.7-5.0GHz, received a cost at $ 306. In other words, in the end, AMD estimated the FX-9370 only $ 29 more than the past flagship, FX-8350, and the high-frequency FX-9590 retained an easy raid of exclusivity and costs more than one and a half times more than one and a half times.
The appearance of FX-9590 and FX-9370 in the official price list, obviously, means that in the near future these products will have to appear in free sale. However, not all stores may want to contact such CPUs, since they can give rise to many problems with end users. These processors are characterized by an unprecedented level of typical heat release – 220 watts – And they require not only the use of powerful cooling systems, but also compatible only with limited subset of Socket AM3+ motherboard, including ASUS Crosshair V Formula-Z, Sabertooth 990FX R2.0 and m5a99fx pro r2.0;Gigabyte GA-990FXA-UD3 Rev4.0 and GA-990FXA-UD5 Rev3.0;as well as ASROCK 990FX EXTREME9 and Fatal1ty 990FX Professional.
Along the way, with the addition of processors to the price list, crowning the PileDriver lineup, AMD also reported an official price for the recently announced Richland processor, A10-6790K, which amounted to $ 122, which is 16 percent cheaper than A10-6800K. In addition, about 12-13 percent, the prices of hybrid processors A6-6400K, A8-6500 and A8-6600K decreased. Their official value is now set at $ 62 for a dual -core model and $ 97 for both four -core.
Source: