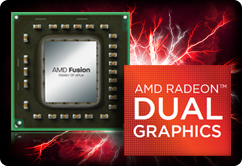 Unfortunately, the company quickly removed from the site «leak» And now by link you can only familiarize yourself with the already well -known scheme for the naming of the Dual Graphics mobile graphic subsystem, however, BrightsideofNews has prudently retained the screenshot of the official website for desktop.
By the way, the page also confirms the previous leaks that said that the origin of the AMD Fusion Table processors AMD Fusion A will consist of seven sentences: two flagship 4-core chips A8-3850 and A8-3800 with the Radeon HD 6650D graphics (400 streamingprocessors), three 4-core Mainstream-solutions A6-3650, A6-3600 and A6-3500 with the Radeon HD 6530D graphics (320 stream processors) and two 2-core primary-level processors A4-3400 and A4-3300 with Radeon HD graphics6410D (160 stream processors).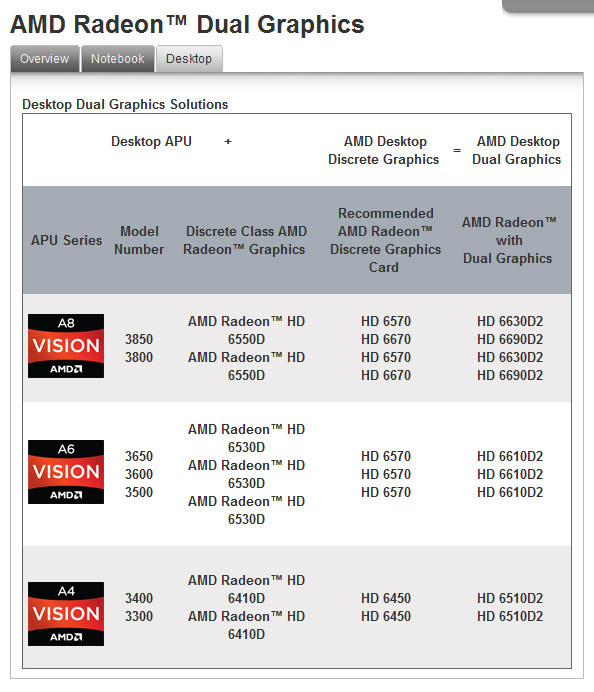 Table graphics scheme APU AMD Llano in Dual Graphics mode
AMD recommends combining 4-core processors in Dual Graphics mode with discrete video cards Radeon HD 6670 and 6570, and various combinations give the following names for the resulting graphic subsystem: Radeon HD 6690d2, Radeon HD2 and Radeon HD 6610D2. At the same time, AMD proposes to combine 2-core processors with a reproach of Radeon HD 6450, as a result of which the owner of the system receives «doubled accelerator» Radeon HD 6510D2.
Thus, AMD is trying to slightly simplify the scheme of naming the final systems, so that such inscriptions as in the counterparts or on the shelves do not flaunt «AMD Fusion A8-3850 APU with integrated Radeon HD6550D graphics and AMD Radeon HD 6670 video card», instead, offers something simpler: «AMD Fusion A8-3850 APU with Radeon HD 6690D2 graphics». We can wait for the official launch, which will take place the other day, and then — the first tests and the appearance of accelerated processors on store shelves.
Source: