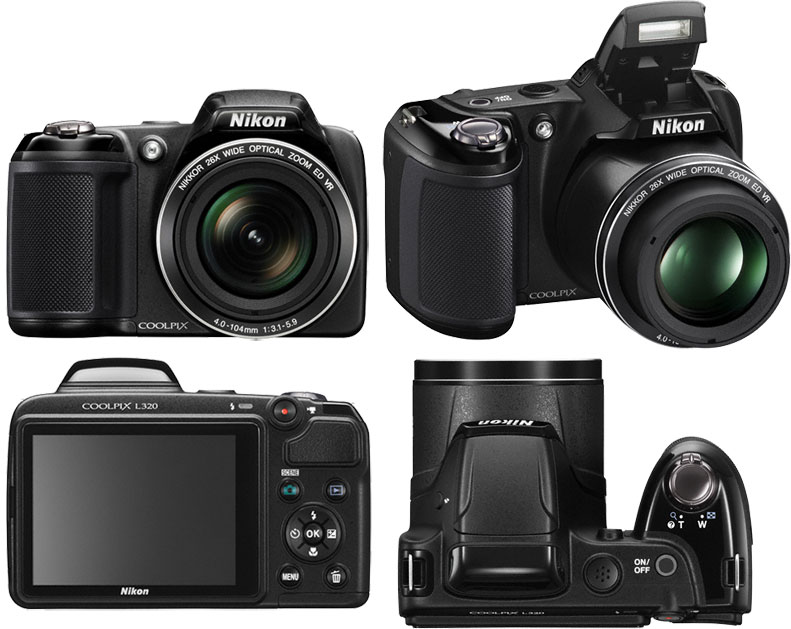 Nikon Inc. announced the release of the compact digital camera Coolpix L320 «Super Zumm», equipped with a Nikkor lens with a 26-fold optical increase (range of equivalent focal distances from 22.5 to 585 mm).
The device is enclosed in a black case with dimensions of 111.1 x 76.3 x 83.1 mm and weighs 430 g (together with four AA Batareys and a memory card). From other technical characteristics of the novelty, it is worth noting:
1/2.3-inch PZS Sensor with an effective resolution of 16.1 MP;
Sensitivity from 80 to 1600 units of ISO;
Expeed C2 image processor;
Vibration suppression system (VR) with a displacement of lenses;
4-fold digital zoom;
3-inch TFT-display with a resolution of 230,000 points, anti-reference coating and 5-level brightness adjustment;
Internal memory with a volume of 49 MB;
Compatibility with interchangeable drives of SD/SDHC/SDXC standards (including with Eye-Fi X2 memory cards endowed with an integrated Wi-Fi module);
Sliding flash;
The possibility of obtaining JPEG photographs with a maximum resolution of 4608 x 3456 pixels;
The ability to record HD-video in MOV format with a resolution of 1280 x 720 pixels at a frequency of 30 frames per second;
18 plot programs;
USB interface;
Video output with NTSC/Pal support.
You can familiarize yourself with all the specifics of this model on the official website of the manufacturer in more detail.
Sales of the product described above in Europe will start from March 21 of this year at the recommended retail price of 240 euros.
Source: