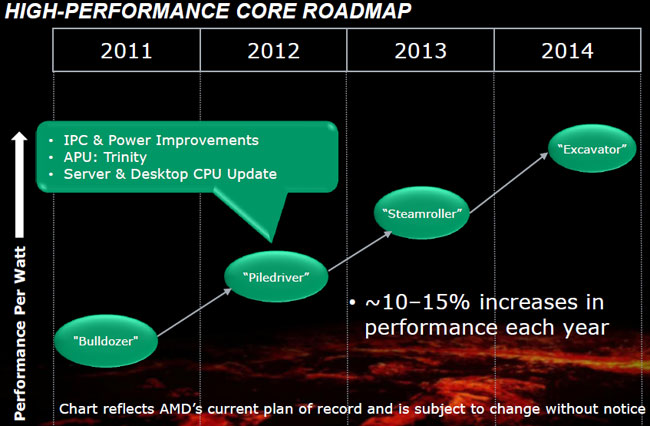 As you know, AMD Bulldozer architecture has a number of disadvantages, and one of the most significant is the relatively low performance of a separate nucleus. Trinity processors, where the CPU PILEDRIVER architecture will be applied for the first time, as expected, will increase CPU performance to 29%.
However, the latest data suggests that radically improved performance should not be expected before appearing in 2013—2014 Processors with Steamroller architecture (third generation of Bulldozer). According to VR-Zone resource, AMD is going to surprise the world again, returning to the high-class chips sector.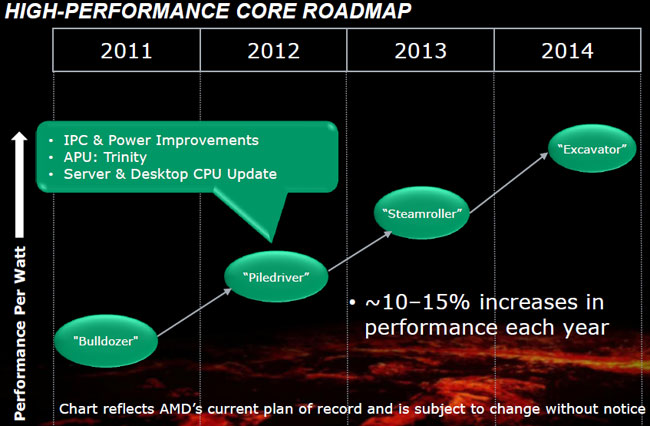 Referring to their sources, which know AMD plans, journalists indicate that the company is not going to repeat its words like «We do not want to compete in the sector of high -performance solutions, but we wish to focus on the mass segment», Instead, he will significantly process the architecture of nuclei and the system as a whole in Steamroller chips, which should help the company move closer to the most powerful Intel chips.
So far, there are not so many processors: it is reported that the number of RAM channels and Hypertransport tire can be increased, the PCI Express 3 controller will appear.0 and so on. All this will require a completely new contact platform. As noted, some AMD leaders understand that the Bulldozer approach may not be the best, and you need to build the power of a separate nucleus. By the way, VR-Zone indicates that PileDriver will really be significantly increased in frequency scalability;This will allow AMD to increase performance in anticipation.
Source: