Advanced Micro Devices plans to start sales of the AMD A8-7650K hybrid microprocessor with a built-in graphic nucleus and Kaveri architecture this week. The new microcircuit will be proposed primarily to those who want to collect an inexpensive system with the possibility of acceleration.
The AMD A8-7650K chip includes four Steamroller nuclei (two two-core modules) operating at 3,30 clock frequencies–3.90 GHz, 4 MB of the second-level Kesh-memory, AMD Radeon R7 graphic processor with GCN 1 architecture.1 and 384 stream processors, a two -channel DDR3 memory controller, an unlocked multiplier and a heat package of 95 watts. The processor will be compatible with the entire spectrum of motherboard on FM2+.
According to the Japanese website of Hermitage Akihabara, AMD partners will begin sales of the A8-7650K in retail February 20, 2015. In Japan, where prices are traditionally slightly higher than in other highly developed countries, the new APU will cost ¥14,000 (7305 rubles, $ 117).
The technical characteristics of the A8-7650K show that the new chip will work more slowly than the A8-7700K, which AMD has stopped producing at the end of last year. The cost of the novelty is only a little inferior to a more productive predecessor. Acceleration opportunities A8-7650K promise to be similar to A8-7700K, given the same architecture and the same 28-nm technological process of Globalfoundries.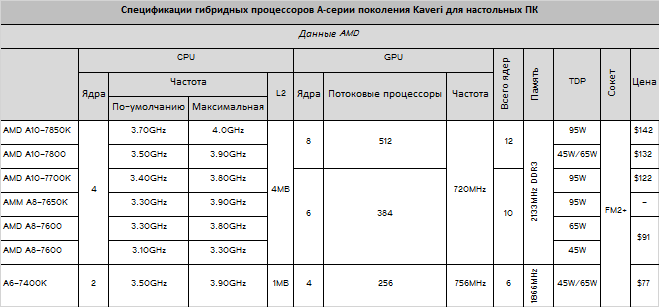 In general, it is not entirely clear why AMD decided to replace the A8-7700K with a product with lower performance and a slightly reduced price.
Thus, AMD A8-7650K does not look like a breakthrough from any point of view. However, if you are building an inexpensive office computer with adequate multimedia capabilities, which for some reason want to equip accelerated potential, then you can take a closer look at the A8-7650K.
It should be noted that AMD did not announce the A8-7650K hybrid processor officially. When these microcircuits appear in the market of the Russian Federation, Ukraine or Belarus, it is not known.
Later this year, AMD plans to release the APU family, known as Kaveri Refresh or Godovari. New microcircuits will slightly improve the performance of the current Kaveri chips due to slightly higher clock frequencies. Unfortunately, breakthroughs in the performance of AMD hybrid processors can not be expected until 2016, when the company plans to release new APU, known under the code name Bristol Ridge, which, according to rumors, will be Carrizo (up to four EXCAVATOR nuclei, Amd Radeon R7 fromArchitecture GCN 1.2 and support for decoding UHD video) in the AM3+ C form factor relatively high clock frequencies.
Source: