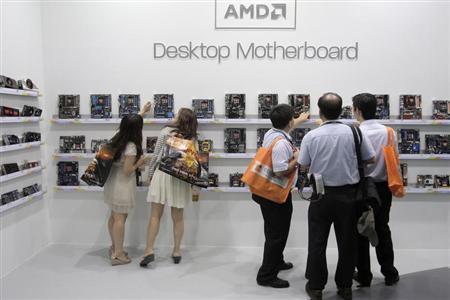 One of the leading suppliers of processors and graphic solutions by Advanced Micro Devices (AMD) published the results of work in the first quarter of 2013. The company completed the reporting period with net losses of $ 146 million or $ 0.19 per share. Operating losses are $ 98 million.
According to experts, in the context of stagnation of the market of personal computers in connection with the ongoing crisis of the global economy, the company's indicators could be much worse. AMD revenue amounted to $ 1.09 billion, although experts predicted no more than $ 1.04 billion. In the same period 2012. The company's revenue was $ 1.59 billion, operating losses — $ 580 million, clean losses — $ 590 million or $ 0.80 per share.
As explained in the press release, the Computing Solutions division reduced the revenue by 9% compared to the previous quarter and 38% compared to last year in connection with a decrease in the supply of desktops, laptops and chipsets. The price of microprocessors increased compared to the previous quarter, although it decreased when compared with the same period in 2012.
The unit responsible for the release of graphic solutions increased by 3% revenue compared to the previous quarter, but reduced this indicator by 12% compared to last year. The price of graphic processors increased both in relation to the previous quarter and the first quarter of 2012.
Trying to cope with the crisis, AMD masters new markets and directions. Last year, the company acquired SEAMICRO, manufacturer of energy -efficient servers. A license agreement was also concluded with the British developer of ARM chips in order to create 64-bit ARM chips for servers. In addition, in October, a reduction in 15% of personnel was announced, which will save $ 190 million this year. In the second quarter, the company predicts an increase in revenue by 2% (+/- 3%).
Source: