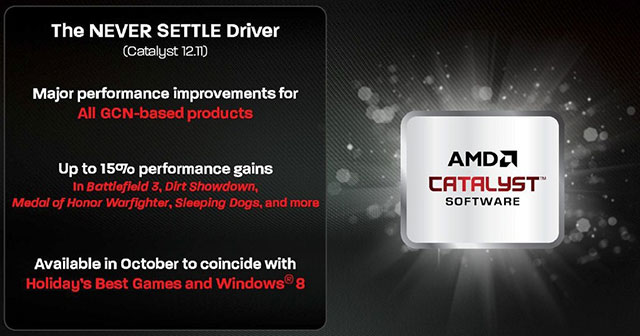 AMD has been promoting the Never Settle slogan (never stop) since 2011 and, it seems, is not going to stop in 2013. The company is seriously tuned to increase graphic performance, because it is this area that provides the company with a stable position in the PC market.
The company made two big announcements at once. Firstly, she introduced impressive gaming sets for those who are going to buy Radeon HD video cards this fall. Secondly, the company announced the NEVER SETLE (Catalyst 12 driver.11), which is able to ensure a significant increase in performance in almost all games and test packages today.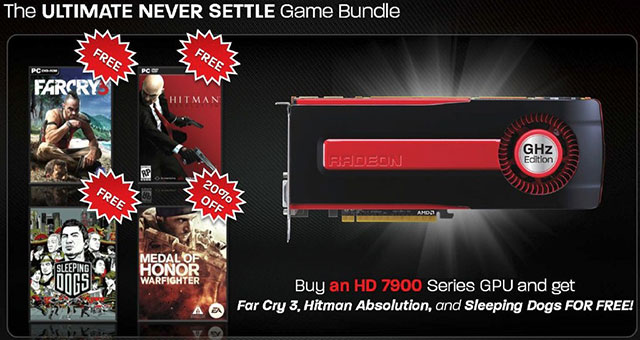 There was a time when video cards were necessarily supplied with games, and customers liked it. Over time, either old games, or less popular, began to be supplied with video cards. AMD made a move of the horse: when buying Radeon HD 7970 or 7950 Never Settle video cards, players receive three new Sleeping Dogs, Far Cry 3 and Hitman: Absolaution games at once. Moreover, the supply has a key for a 20 percent discount when buying Medal of Honor: Warfighter in the EA Origin online service. I think this is the best offer for many years when buying high -class video cards.
Buyers of AMD Radeon HD 7800 and Radeon HD 7770 GHZ Edition also get a lot: Far Cry 3 and a 20% discount for Medal of Honor: Warfighter. Given the fact that in the United States new high -class games cost $ 60, this is also a very generous offer for buyers of graphic accelerators of the middle class.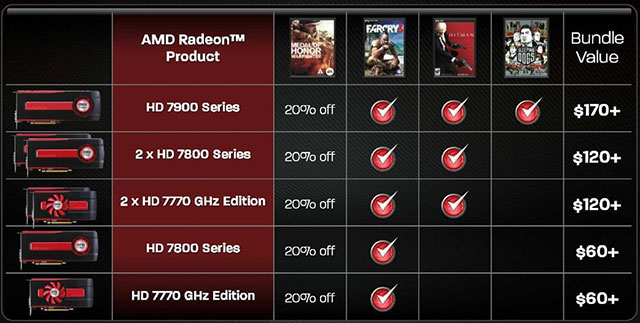 In addition, AMD introduced Crossfire sets, so when buying two AMD Radeon HD 7800 or two Radeon HD 7770 GHZ Editions at once, buyers receive Hitman: Absolution game in addition to Far Cry 3. The only bad thing is that if the player already owns the Radeon HD 7800 or Radeon HD 7770 GHZ Edition cards, he does not participate in Crossfire — only two video cards are needed at once. The most important thing is that AMD does not increase the prices of video cards participating in the promotion, so the bonus is completely free.
However, perhaps the company made a more important gift for owners of Radeon accelerators by announcing a special driver for accelerators with the new GCN architecture. For 11 months that have passed since the release of Radeon HD 7970 in December 2011, AMD programmers studied the new architecture and optimized the drivers to increase performance. There was no clear data about what the company did this time yet, but AMD informed Legit Reviews reporters that significant optimization touched the cache memory, as well as the redistribution of the load on the computing nuclei. Changes provided an increase in real performance at a level of up to 15% in many games, including Battlefield 3, Dirt Showdown, Medal of Honor Warfighter, Sleeping Dogs, and so on. At the same time, the company claims that it did not make a change of shaders in games, and the image quality remains at exactly the same level.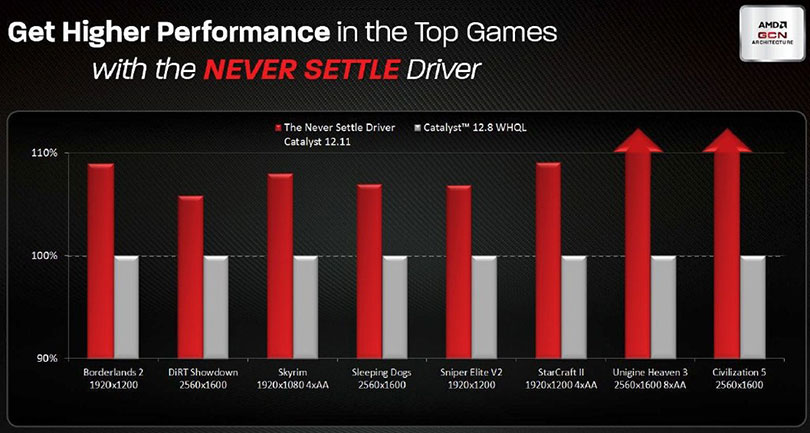 The presented slide from the press release shows that the increase is felt in many games. Most have received an additional 5—10%, but, for example, the Civilization 5 and the Unite Heaven 3 test package demonstrate more than 10 percent growth in relation to Catalyst 12 drivers.8 WhQl and 12.9 beta. All this allowed AMD to update the table of comparison of its video cards with NVIDIA accelerators of the same price level.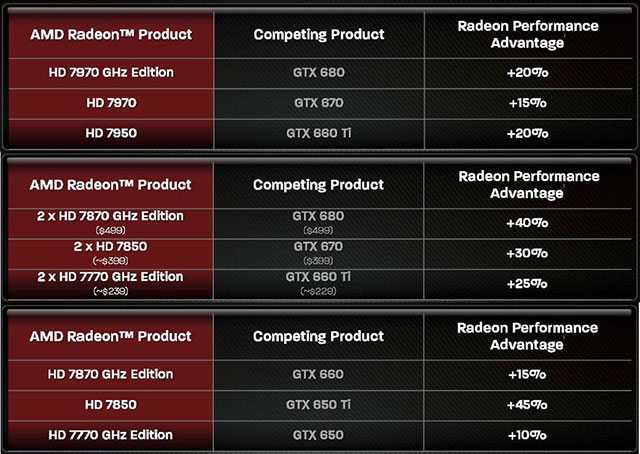 Own testing by journalists of the Legit Reviews Resource Sapphire Radeon HD 7970 Vapor-X 3 GB (with Catalyst 12 drivers.9 beta and Catalyst 12.11) against ASUS GEFORCE GTX 680 DirectCU II Top 3 GB (with the GeForce 306 driver.97) on the system with Core i7-3960x, 16 GB of RAM and 240-GB by the SSD drive showed that the new driver, in fact, provides an increase in performance in the vast majority of the tested games (sometimes 3—5%, but sometimes more than 10%).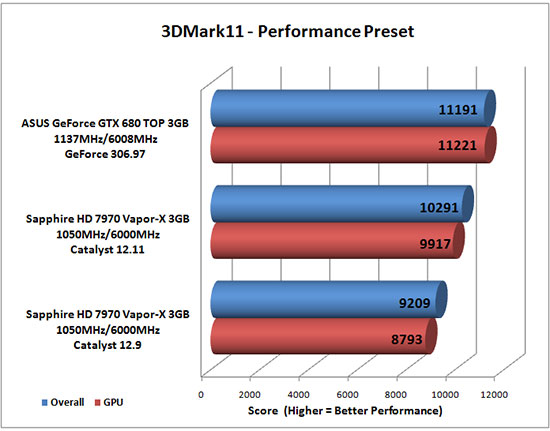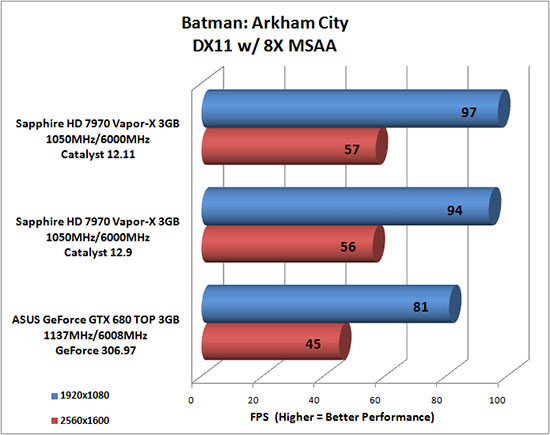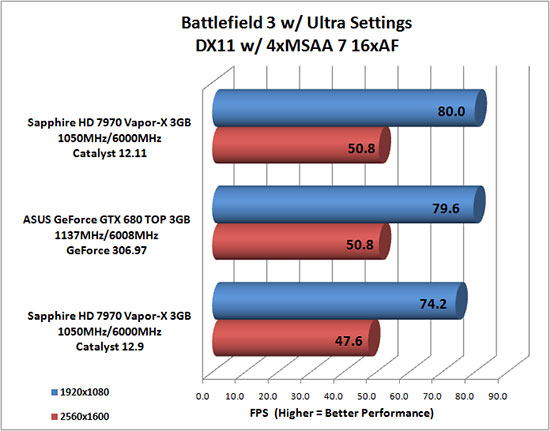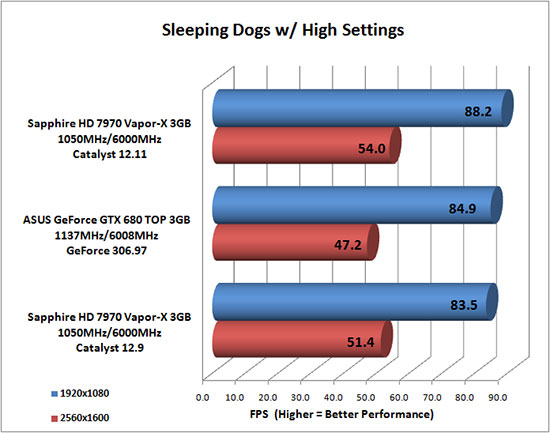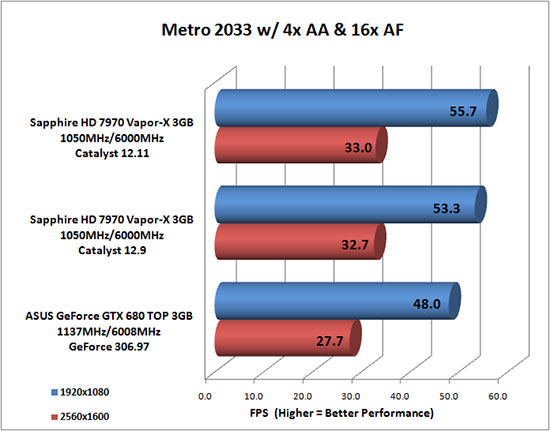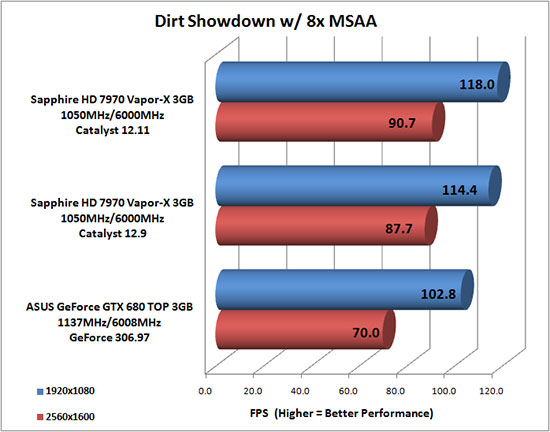 Catalyst 12 driver.11 and Never Settle sets have become a pleasant surprise from AMD to Christmas holidays. Journalists were impressed by what AMD managed to achieve a new driver for their GCN architecture. It seemed that the company had already squeezed out of it in 11 months everything that is possible, but the new driver provides another noticeable increase in performance. The comparison of images conducted by journalists, as well as renaming the executable 3DMark11 files and other test packages, did not reveal a drop in quality or any special optimization. AMD promises that soon all owners of Radeon HD 7000 cards will get the opportunity to download this new driver and make sure with an increase in performance with your own eyes. I would like to hope that AMD will not stop at this in improving its accelerators.
Source:
AMD.com, LegitreViews.com