AMD Freesync adaptive synchronization technology has been fighting a similar NVIDIA G-Sync for a long time, and we have already seen several monitors with its support, but only yesterday Advance Micro Devices announced this technology officially in the United States. In addition, a number of prices for various monitors with Freesync support were published. For example, BenQ XL2730Z with a resolution of 2560 × 1440 and a TN type matrix with a frequency of 144 Hz will cost a potential buyer $ 630, which is noticeably cheaper than the same ASUS ROG SWIFT PG278Q with G-Sync support ($ 780).
There are 11 items in the list of new models that will soon appear on the market. I must say that despite its democracy, AMD Freesync technology is not available to all AMD Radeon owners: it is supported by only six graphic cards and six APU models. The minimum requirement is the presence of a Radeon R7 260 or processor A6-7400K in the system of the graphics adapter. Radeon R9 280X does not support the technology at all, but in the case of Radeon R9 285, it works.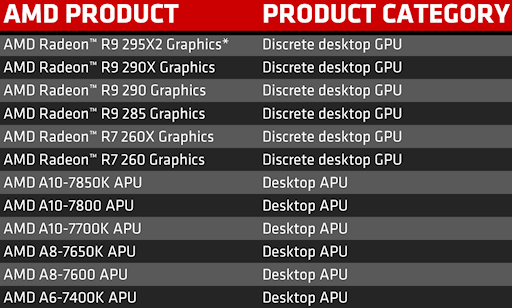 Well, of course, Freesync works great on current flagship maps AMD — Radeon R9 290X and Radeon R9 295×2. True, in the latter case, the Crossfirex mode remains inaccessible, and its support will appear only in mid -April, when AMD releases the corresponding driver. For single processor solutions, the Catalyst 15 driver will soon be released.3 beta, which will ensure the full support of Freesync. Finally Nvidia G-Sync officially had a worthy opponent.
Source: