In April 2011, AMD released a graphic adapter based on the new Turks XT chip – Radeon HD 6670. This model has nothing to do with Radeon HD 5670, although «Playing» in the same price range. The owners received even more performance in the person of HD 6670 due to an increased number of computing blocks and grew up clock frequencies. But under the guise of Radeon HD 6770, the children from Sunniel offered the consumer a decision from 2009 – Radeon HD 5770. AMD decided to extend the life of the GPU Turks XT using the Radeon HD 7670 model, which was registered on the official website in the OEM manufacturers section.
Given «novelty» It is intended for a bottomless OEM segment, whose consumers are less trained users than retail customers.
Yes, while the company's website is only the Radeon HD 7670, but our colleagues from the SWECLOCKERS resource are also talking about other not true representatives of the Radeon HD 7000 series. Radeon HD 6000 Radeon HD 7000 renamed Radeon HD 7000. Their destiny is OEM segment.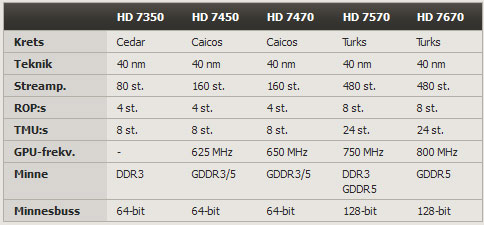 With a review of Radeon HD 7670 (Radeon HD 6670) you can get acquainted on the pages of our resource.
AMD can prepare an accelerator with 2304 stream processors;
AMD rejects the presence of hidden blocks in Radeon HD 7970 (Tahiti XT);
The next generation of AMD video cards bears the code name Sea Islands?.
Sources: