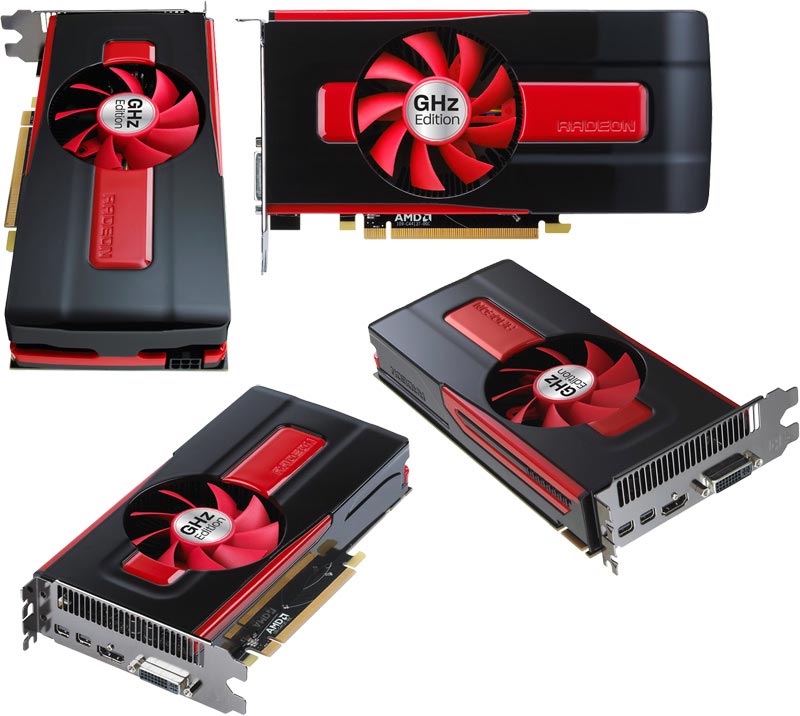 Following the intended rate, Advanced Micro Devices (AMD), after strengthening its leader's status, among the manufacturers of powerful single -chip discrete video cards for desktops, has now moved to strengthening their own positions in the segment of table graphic solutions of mass demand. According to the Sunniyl strategists, on this front their main weapons in the fight against NVIDIA products will become officially announced today by the Radeon HD 7770 and Radeon HD 7750 models, which are based on the Cape Verde chips and are younger carriers of the advanced architecture of GraphicsCore NEXT (GCN) among the GPU generation Southern Islands.
Like their older counterparts represented by Radeon HD 7970 and Radeon HD 7950, the debutants are endowed with the most advanced AMD developments, namely:
AMD Eyefinity 2 technology.0 technology (symbiosis AMD Eyefinity Technology and AMD HD3D Technology), which enables one graphic adapter to reproduce a large image either on five displays with landscape/portrait orientation or six monitors with landscapes, screens compiled three intwo rows (you can still display a single three-dimensional image at once by three 3D display with the DisplayPort interface and the update frequency of 120 Hz);
Improved integrated UNIFied Video Decoder (UVD) with support for H.264/AVCHD, VC-1/WMV Profile D, MPEG-2, Multi-View Codec (MVC) and MPEG-4/Divx, Video Codec Engine (VCE) corporate engine and AMD Steady Video 2 technology.0;
Technologies for optimization of energy consumption AMD PowerTune Technology and AMD Zerocore Power Technology, thanks to which the power power under load is approximately 80 watts of Radeon HD 7770 and approximately 55 watts for Radeon HD 7750 (in idle mode, this indicator is the same for both accelerators and does not exceed 3 W).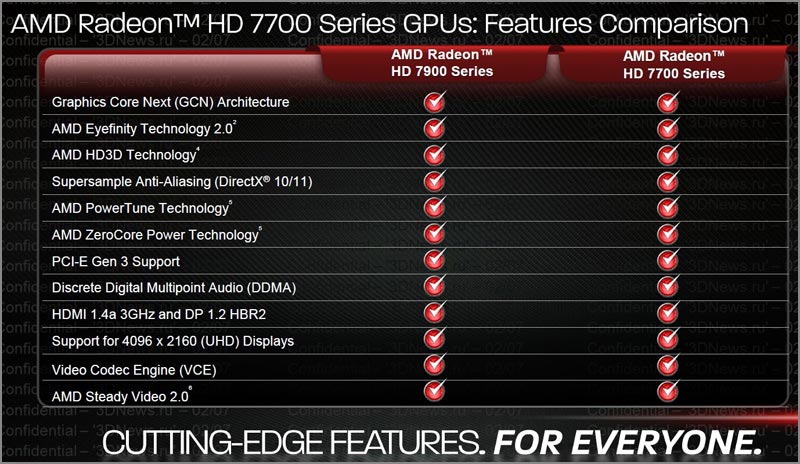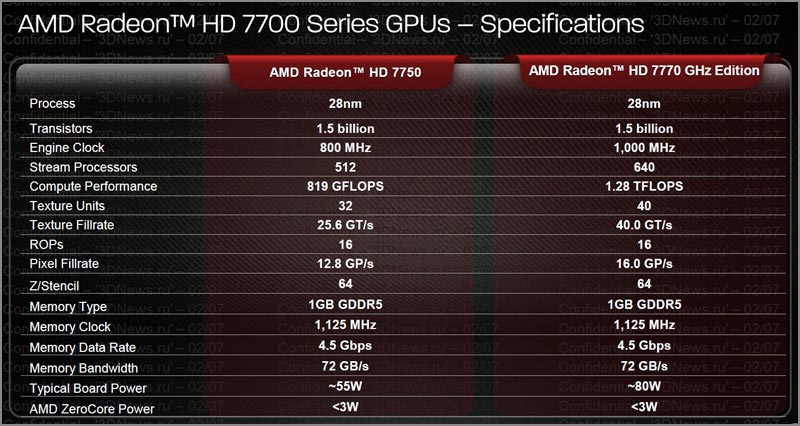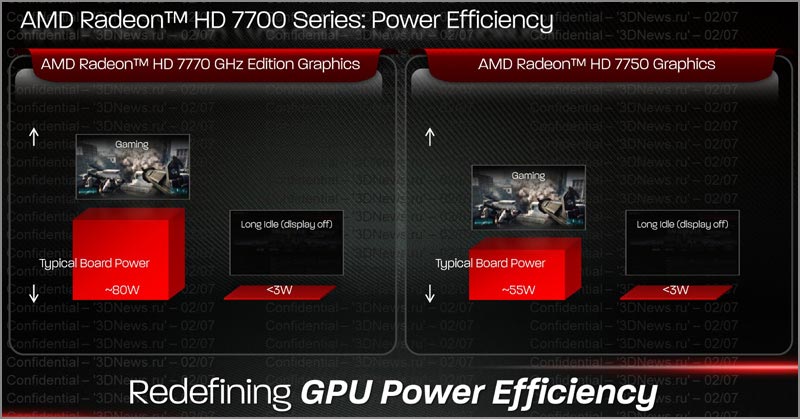 Each of the new products is made on the black printed board under the PCI Express 3 bus.0 x16, has a gigabyt of GDDR5 memory on board with a 128-bit interface and a frequency of 1125 MHz, and also compatible with DirectX 11.1. At the same time, the Radeon HD 7770 model has 640 stream processors, 40 texture modules (TMU) and 16 rasterization blocks (ROP). It is characterized by the computing power of 1.28 TFLOPS, cooled by the forces of an active type of two -slope, equipped with DVI and HDMI ports displayed on the rear panel, as well as two mini displayPort connectors, and is the world's first graphic adapter in which the kernel frequency is initially 1000 MHz. In turn, the Radeon HD 7750 model received 512 stream processors, 32 texture modules (TMU) and 16 rasterization blocks (ROP). She is engaged in the removal of excess heat in her small monosyllable cooler with a fan. The rear panel has one DVI, HDMI and DisplayPort «It works» at a frequency of 800 MHz. The computing power of the Radeon HD 7750 is 819 GFLOPS.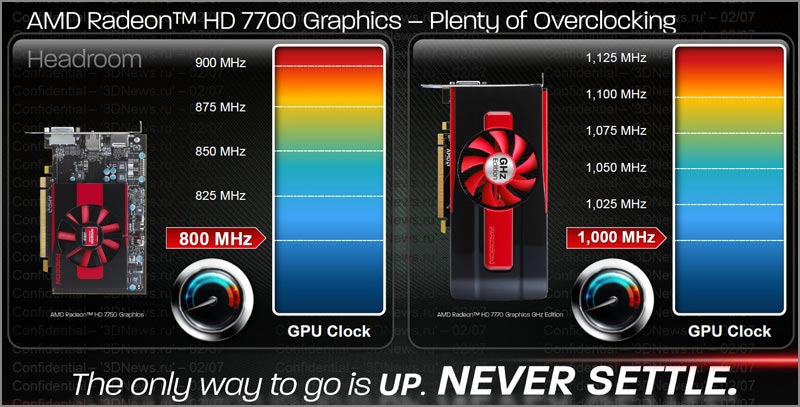 If we talk about the acceleration potential of the Radeon HD 7770 and Radeon HD 7750, then the developers assure that the nuclear frequency without much effort can be increased to 1125 MHz and 900 MHz, respectively.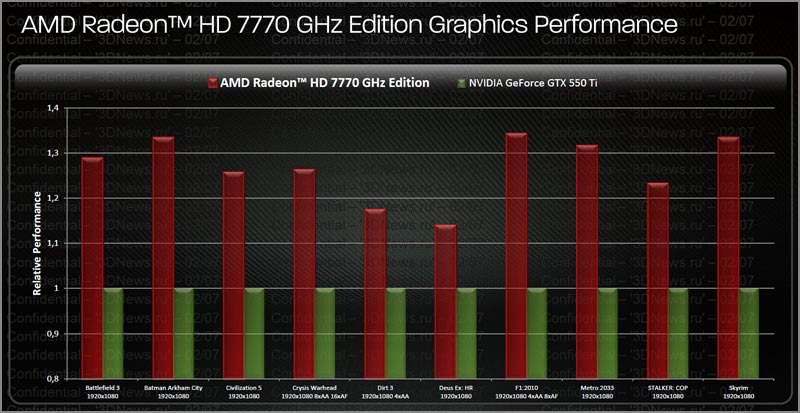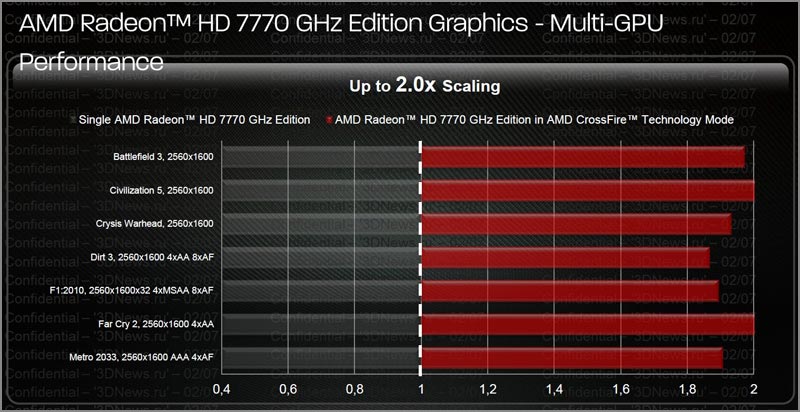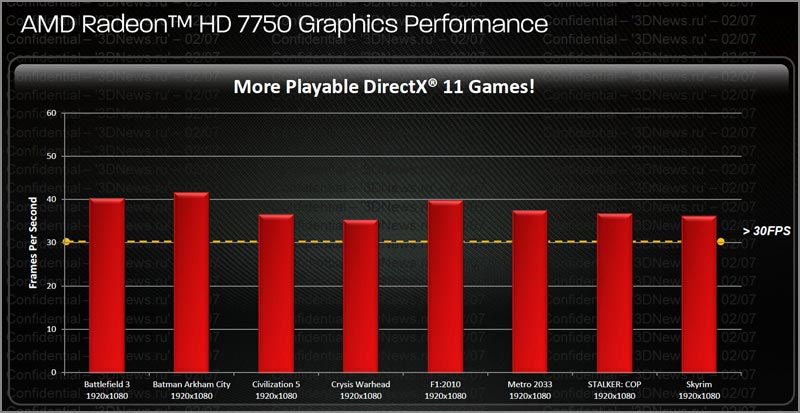 AMD partners are expected to delight consumers with a variety of their alternative versions of new accelerators. As for the retail price, according to available information, it is $ 160 for Radeon HD 7770 and $ 110 for Radeon HD 7750.
Source:
Advanced Micro Devices (AMD)