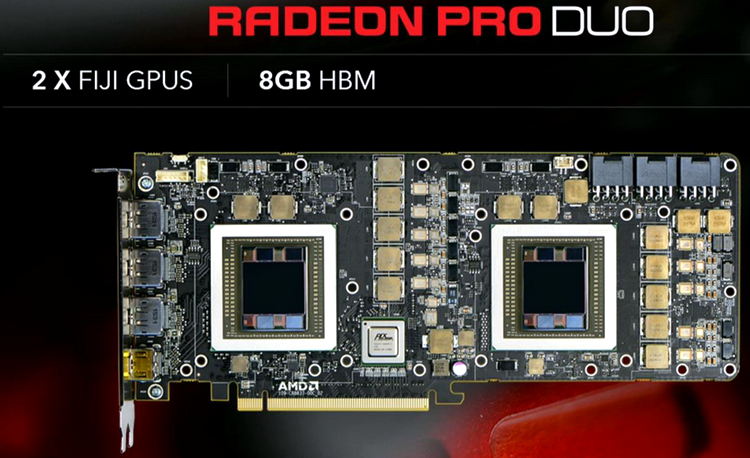 Initially, the AMD Fiji two-processor graphics card was developed for installing VR applications in the working stations of VR applications and those who work on the implementation of the API DirectX 12, including in terms of supporting new, more effective methods of using several graphic processors. Hence the name — Radeon Pro Duo. The cost of this monster was to match its characteristics at the time of the announcement: $ 1,500 did not look excessive for a professional card with 8192 streaming processors GCN 1.2 and 8 GB of the most advanced at that time of HBM memory with a total capacity of 1024 GB/s.
We do not know what volumes the Radeon Pro Duo was sold, but in the corresponding sector mentioned above, he clearly found his application: only rumors went about Polaris, and VeGA was generally presented as something distant, like an original star that gave the name architecture. Despite the capacity in the region of 16.4 TFLOPS on calculations of single accuracy, Radeon Pro Duo cost a rather modest liquid cooling system, almost the same as used in AMD Fury X, the benefit of the developers managed to meet the 350-vat heating pad. It was the best of what AMD could offer in terms of game and professional graphics at that time. Radeon Pro Duo ahead of the then Flagship Nvidia, GeForce GTX Titan X.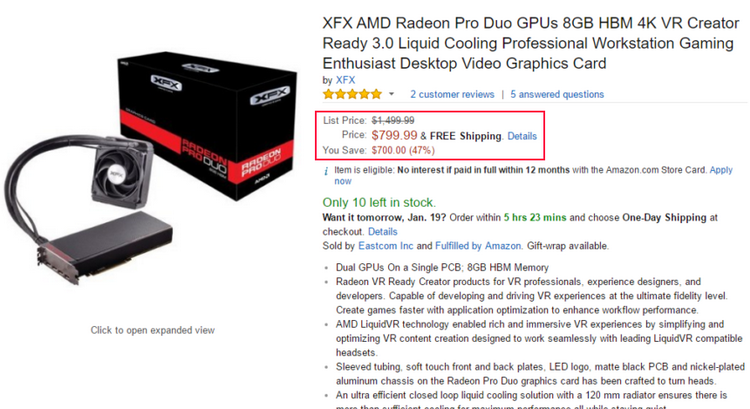 But today there are already a lot of solutions on the basis of Polaris 10 on the market, and pretty soon the light should see the even more perfect generation of video cards, which are based on Vega architecture. In this generation, HBM2 will replace the first -generation HBM, and a lot of innovations will be implemented, including optimization of the GP conveyor for more efficient multi -seating, as well as a special caching system that allows the use of video memory more efficiently. It is not surprising that the interest in Radeon Pro Duo and the Fury series in general began to fade away. AMD partners, trying to sell the available reserves of cards, resorted to the tested method — reduced the price, and now this monster can be purchased for only $ 800;However, depending on the store and the region, discounts can vary within 31–46 %. One -processed option, Fury X, can also be found with a price tag close to $ 300. If you are clearly not affordable for the future Vega 10, this is a good chance to purchase a fairly powerful game card with excellent performance in DirectX 12, Mantle and Vulkan.
Source: